Stargazers Wanted: Michigan Parks Open for Dark Sky Week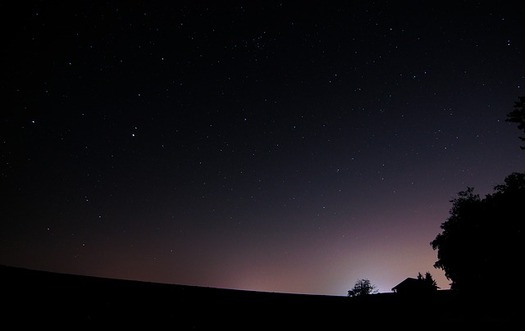 Some experts contend light pollution has negative impacts on the environment and health, and wastes energy. (Pixabay)
April 4, 2016
LANSING, Mich. – The same streetlights, headlights and signs that keep Michigan streets, homes and businesses visible in the night also are a major distraction for stargazers.

So during International Dark Sky Week, which begins today, Michigan's state parks are inviting residents to come and enjoy a clear view of the night sky.

Stephanie Wirtz, promotions coordinator for the Michigan Department of Natural Resources, says a number of parks will be open overnight for self-guided stargazing, including the state's designated dark sky preserves.

"They had to have a certain level of light," she explains. "There are a lot of lights that shine up and cause light pollution. The parks and things in our area either are lacking lights, or their lights are pointed down, so that helps with the promotion of the dark sky."

There are six dark sky preserves, including three that were just named this year: Rockport State Recreation Area, Negwegon State Park and Thompson's Harbor State Park.

According to the International Dark-Sky Association, light pollution has negative impacts on the environment and health, and wastes energy.

Wirtz says while astronomy knowledge is helpful, people do not need to be star experts to enjoy the night sky.

"You don't really have to know a lot," she stresses. "It's fun to just go out and look at the stars.

"There are some apps that you can download on your smartphone that can help you see constellations and identify the constellations, but just dress for the weather and enjoy yourself."

Some parks, including Besser Museum Planetarium, will host informational programs for International Dark Sky Week.

Most events are free, but a Recreation Passport from Michigan DNR is required for vehicle access.




Mary Kuhlman, Public News Service - MI