NV Advocates Rally in Washington to Push Heller on Supreme Court Nominee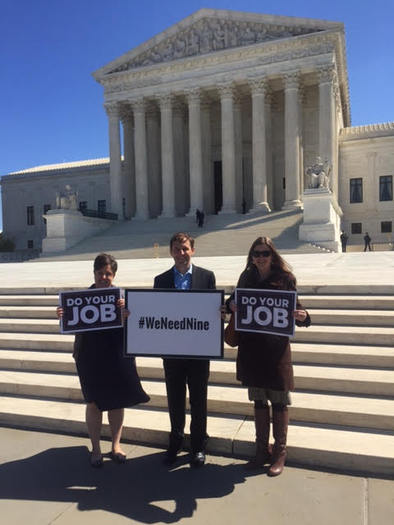 Nevada progressive advocates protest at the U.S. Supreme Court to ask senators to give the president's nominee a hearing. (Nevadans for Judicial Progress)
April 6, 2016
WASHINGTON - A group of progressive advocates from Nevada traveled to Washington on Tuesday to meet with Sen. Dean Heller, R-Nev., and ask him to support a hearing for Judge Merrick Garland, President Obama's nominee to the U.S. Supreme Court. Heller has said he won't consider any Supreme Court nominee until after the election, when the new president will make a nomination.

The delegation included state Assemblyman Elliot Anderson, D-Las Vegas, and representatives from Battle Born Progress and the Progressive Leadership Alliance of Nevada (PLAN). Stacey Shinn, policy director for PLAN, said Heller and his Republican colleagues in the Senate need to do their job and consider Garland for the high court.

"At this point they are just obstructing the process and not even allowing a hearing and a vote," she said, "and this is an unprecedented situation."

U.S. Sen. Harry Reid, D-Nev., favors a confirmation hearing for Garland.

Progressive groups are closely watching upcoming cases on illegal immigration and abortion rights, which are complicated by the 4-4 ideological split on the court left by the recent passing of Justice Antonin Scalia. Any cases that get split decisions automatically defer to the lower court ruling.

Anderson said the possibility of multiple split decisions from the high court creates an unacceptable level of uncertainty for the business community and workers.

"So if you don't fill the Supreme Court vacancy," he said, "you're going to have different court cases across the country that will create a patchwork of laws that will make it harder for businesses to keep their court costs down, which ultimately puts a lot of pressure on jobs."

The Supreme Court will be issuing rulings until mid-June, when the current term ends. The rally is part of the larger We Need Nine campaign.
Suzanne Potter, Public News Service - NV