Workers Press for Bill to Assist Wage Theft Victims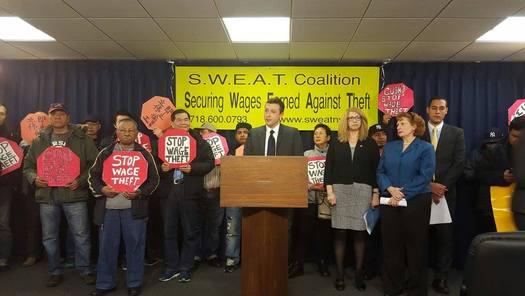 A study says $125 million in wage-theft judgments have not been paid. (Empire Justice Center)
April 6, 2016
NEW YORK - Now that New York has approved a hike in the minimum wage, labor advocates want to be sure workers can collect what they're owed.

Wage theft - the failure to pay workers what they earn - is still a common problem. Last year, Gov. Andrew Cuomo launched a major campaign to prosecute employers who don't pay, but Sarah Ahn, an organizer with the Flushing Workers Center, said winning a judgment isn't always enough.

"The employers have become very good at transferring their assets, closing down their shops, opening up under a new name, using these tactics to never pay these judgments," she said.

A bill called the Secure Wages Earned Against Theft (SWEAT) Act, now in the state Legislature, would give workers new ways to force employers guilty of wage theft to pay up.

A study done last year found that judgments against employers totaling more that $125 million have not been paid. According to Ahn, passing the SWEAT Act would help.

"What our bill is primarily seeking to do," she said, "is give workers more tools that will allow them to use different legal mechanisms to hold the assets of an employer."

The bill would allow workers to file personal liens against business owners, and the state to place liens on property and on the shareholders of limited liability companies to recover back wages.

While the newly passed increase in the state minimum wage is being hailed as a victory for workers, Ahn said there still is more work to do.

"Even with these increases, it's not a reality for many workers," she said, "so I think it's time that the state and our legislators really take action to make these laws enforceable."

She said the bill may come up for a vote soon in the state Assembly and is picking up a growing number of sponsors in the Senate.

The text of the bill is online at nysenate.gov.