Protesters Call on BLM to Halt Sale of Oil, Gas Leases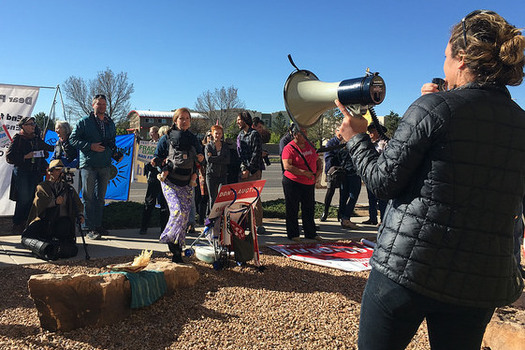 Protesters gathered in Santa Fe on Wednesday to call for the Bureau of Land Management to halt the sale of oil and gas leases on public lands. (WildEarth Guardians)
April 21, 2016
SANTA FE, N.M. - More than 200 protesters gathered outside a Bureau of Land Management (BLM) oil and gas lease auction in New Mexico on Wednesday, urging the Obama administration to "Keep it in the ground." Representatives from more than two dozen environmental groups from across the West called for an end to oil and gas exploration on federal lands. Taylor McKinnon, public lands campaigner with the Center for Biological Diversity, said the auctions run counter to the president's stated goals on climate change.

"This is the latest among many such public protests that have arisen in the last eight months around the Obama administration's continuing auctioning off of publicly owned fossil fuels in the face of an impending climate crisis," he said.

The auction was for the rights to 2,300 acres of public land in the Midwest. Prior to Wednesday's sale, the BLM did withdraw more than 36,000 acres of leases in Texas after an administrative challenge by environmentalists, who said there was a high risk that fracking to extract the fossil fuels would endanger municipal water supplies.

McKinnon said existing federal oil and gas leases eventually will release 20 billion tons of greenhouse gas pollution, and untapped federal leases have the potential to release another 89 billion tons into the atmosphere.

"Scientists tell us that we have to keep 80 percent of existing fossil-fuel reserves in the ground to stay below 1.5 or 2 degrees of warming," he added. "So we have already five times as much fossil-fuel reserves as we can safely burn."

McKinnon said other major groups organizing the protest included WildEarth Guardians, New Energy Economy and Earth Care. He adds that since November, protests have caused the BLM to postpone sales in Utah, Colorado, Wyoming and Washington, DC.
Mark Richardson, Public News Service - NM