Environmental Groups Watching Clean Power Plan Challenge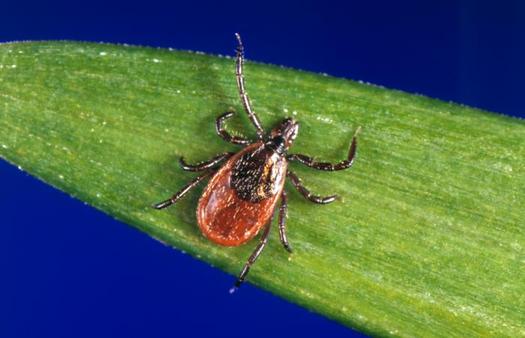 A New Hampshire mom says the growing tick problem is just one reason the Granite State has a major stake in the coal industry's challenge to Clean Power Plan. (Jim Gathany)
May 16, 2016
CONCORD, N.H. – A few weeks from now, environmental groups will be watching closely as the U.S. Court of Appeals in Washington hears the coal industry's challenge to President Barack Obama's Clean Power Plan.

The plan places limits on heat trapping carbon dioxide from power plants. The U.S. Supreme Court has temporarily halted the plan because its legal merits are being challenged.

Rebecca Whitley, a field organizer for Moms Clean Air Force in New Hampshire, says the state needs the plan back on track because climate change is affecting the local economy with a shorter ski season and ramifications for fall foliage, which can also hurt tourism.

As a mother, Whitley says she is concerned about the health hazards, including the state's growing tick population.

"I have a two and a half year old, and this growing tick problem here in New Hampshire is absolutely tied to global climate change," she states. "You know it's a tough call when you want to have your kids out in the woods and playing, but that's a concern that I always think about."

Peabody Energy, America's largest coal company, denies the scientific consensus on climate change and has said it joined with others in the coal industry and attorneys general from coal producing states to protect what it calls affordable energy for American families.

The case will be heard by the federal court in Washington on June 2, and will likely go back to the Supreme Court regardless of the lower court's ruling.

Kerwin Olson, executive director of the Citizens Action Coalition, calls the lawsuit a big waste of time because he says natural gas, wind and solar are all cheaper and cleaner. He says the coal industry's fight against clean power reminds him of the telecommunications battle of a couple of decades ago.

"Ma Bell and AT and T resisting the Internet and cellular technology, trying to maintain their outdated business model," he points out. "That's the same thing that's going on with electric utilities."

The Natural Resources Defense Council is also trying to keep the Clean Power Plan in place, calling it the bridge to a clean energy future and saving billions on energy costs.

NRDC also says switching to clean energy will prevent the deaths of 3,600 Americans and avert 90,000 childhood asthma attacks annually by 2030.



Mike Clifford, Public News Service - NH