Chaos at NV Democratic Convention: "Where to Go from Here?"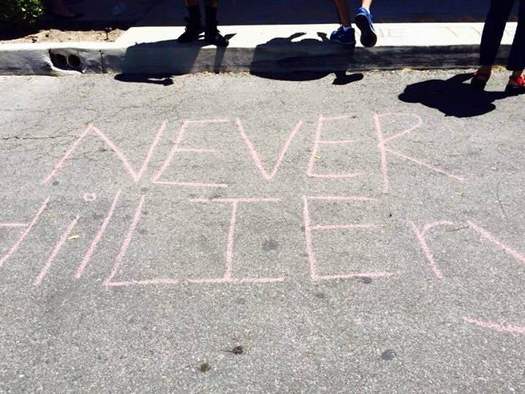 Chalk protests were left by Sen. Bernie Sanders' supporters in front of Nevada Democratic Party headquarters on Sunday. (Adryenn Ashley)
May 17, 2016
LAS VEGAS - Nevada Democrats are deeply divided after chaos broke out at their state convention on Saturday. A group of Senator Bernie Sanders' supporters became angry after dozens of their delegates were disqualified when their names weren't on the list of registered Democrats.

The credentials committee, made up of five members each from the Clinton and Sanders campaigns, also rejected eight of Hillary Clinton's delegates.

Annette Magnus, a delegate who attended the state Democratic convention, says the protests got way out of hand, and targeted Democratic Party chairwoman Roberta Lange.

"What you saw was people who were violent towards the chair, were making death threats," says Magnus. "They wrote all over the Democratic Party headquarters, (and) posted her (Lange's) phone number and her home address online when they didn't get their way."

Sanders supporters counter the alleged vandalism was merely sidewalk chalk calling for the chairwoman's resignation, and the alleged violence was one man who raised a chair then put it down without incident.

Sanders delegate Adryenn Ashley alleges the Nevada Democratic Party changed the convention rules to favor Clinton and says there's now no path toward party unity.

"What we saw in action was literally the behind-the-scenes 'dirty politics' that we all wish didn't happen and does," says Ashley. "The Hillary people might be able to unify under Bernie, but the reverse is definitely not true, especially now. They stole the election."

As it stands, Nevada will send 35 delegates to the Democratic National Convention in Philadelphia, 20 will be pledged to Clinton and 15 to Sanders. If Sanders loses the nomination, Ashley she hopes he'll mount a third-party challenge for November.
Suzanne Potter, Public News Service - NV