Solar Advocates in KY Want Net Metering Expanded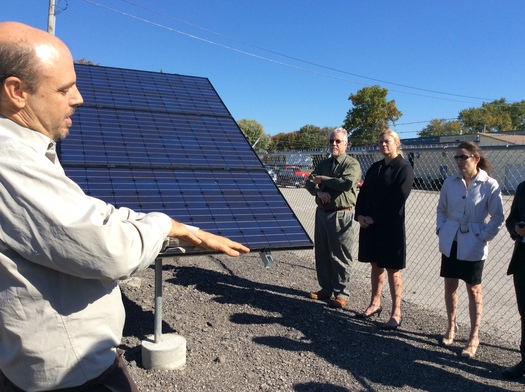 State leaders tour Berea's Solar Farm. Solar advocates in Kentucky want net metering expanded, saying it makes economic sense.(Lane Boldman)
June 2, 2016
FRANKFORT, Ky. – Getting the solar bandwagon moving in Kentucky has been a challenge and its advocates hope a study from out West helps their efforts.

A new report in Nevada finds utility customers there are already reaping up to $14 million a year from rooftop solar, whether they have panels or not.

The research was done by the Natural Resources Defense Council and energy provider Solar City after Nevada's Public Utilities Commission decided to end net metering, a billing method that credits solar energy system owners for the electricity they add to the grid.

Andy McDonald, a solar advocate in Kentucky, says the study is one more in a long series of studies showing net value. Kentucky caps net metering at 30 kilowatts.

"It really is a legitimate barrier to the growth of solar in the state," McDonald states. "It's a huge market, it's a huge resource that's available throughout the state that we're not accessing because of this limit."

Utilities argue it could be a cost to them when people generating their own solar power use the utility grid. But solar advocates say expanding net metering to one megawatt would create economic benefits.

McDonald, who does solar consulting and design, says systems smaller than 30 kilowatts are on the residential or very small commercial scale.

"There are enormous opportunities in larger commercial customers as well as many government and institutional customers to net meter hundreds of kilowatts," he points out.

According to Noah Long, director of the Western Energy Project for the Natural Resources Defense Council, the new cost-benefit analysis of solar in Nevada looked at a variety of impacts.

"The $7 million number really just includes electricity system benefits like reduced energy purchases from large power plants, reduced need for transmission and distribution system upgrades and investments, things like that," he explains.

Long says the other $7 million in benefits would come from reduced pollution, which affects health costs, and from lower environmental costs associated with using fossil fuels such as coal and natural gas.



Greg Stotelmyer , Public News Service - KY