Homeless Group Joins Campaign to Grow Food for Needy Families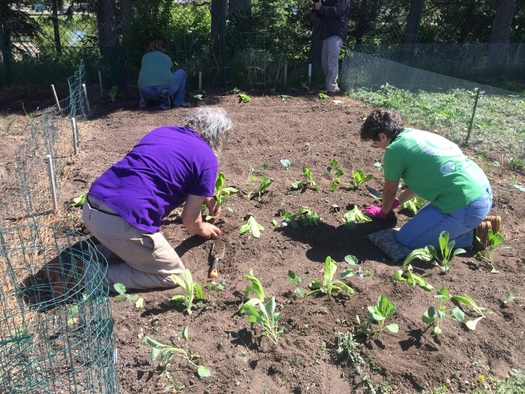 The Wyoming Coalition for the Homeless has taken up the Cheyenne Botanic Gardens' challenge to help feed hungry families. (Wyoming Coalition for the Homeless)
June 7, 2016
CHEYENNE, Wy. - The Wyoming Coalition for the Homeless has joined the Cheyenne Botanic Gardens' "Plant a Row for the Hungry" campaign.

Volunteers got their hands dirty yesterday planting beans, cucumbers, lettuce and tomatoes.

Rachel Bennett, the Coalition's volunteer director, says the project is an opportunity for people experiencing homelessness to contribute.

"I know when I don't feel a sense of purpose, I can feel a little glum," says Bennett. "And if they're already feeling low about some things in their life, let's try to find some outlets to be more productive and make them feel useful and necessary, and helpful."

The Botanic Gardens donated the plot and seedlings, and will train volunteers to maintain the crops through to harvest.

The food will be donated to local pantries, the COMEA House emergency shelter and the Welcome Mat Day Center operated by the coalition.

One in 10 Wyoming families struggles to put food on the table, according to the Botanic Gardens.

Bennett says the campaign is a good way to get fresh produce to people who don't always have a lot of options.

"Because the food that is available to those in need is usually high in all of the worst things that are in manufactured, nonperishable food items," she says. "And so, it's not going to help you be a healthier person."

The campaign is encouraging gardeners of all ages and abilities to plant an extra row of vegetables to donate to families in need. Bennett thinks the idea will take off, because she's seen the community continuously step up to help others.

"In a world where every time you turn on the news it's something sad or bad," says Bennett. "It's a positive to see how kind the world can still be, and people are still really good to those in need."

Produce from home gardens can be dropped off at the Paul Smith Children's Village on the third Friday and Saturday of each month, from July through September.
Eric Galatas, Public News Service - WY