Advocates Document Inhumane Conditions at Egg Factory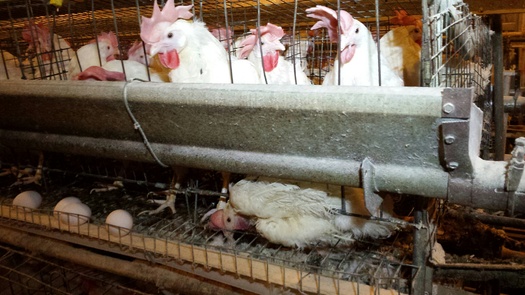 A hen is trapped under the wires of her cage. (HSUS)
June 8, 2016
HARTFORD, Conn. - An undercover investigation documents extreme crowding and unsanitary conditions in a huge egg-producing factory farm in Turner, Maine, with about 4 million egg-laying chickens crammed into 70 warehouses.

It's operated by Hillandale Farms and distributes eggs throughout New England.

Paul Shapiro, vice president of farm animal protection for the Humane Society of the United States, says his group's investigator found birds spending their entire lives crowded into cages so small the birds can't spread their wings.

"We saw hens who were forced to live in cages with the dead and decomposing corpses of their cage-mates," says Shapiro. "Sometimes these corpses had been there for so long that they more resembled flattened pancakes."

Hillandale Farms, which is based in Pennsylvania, says it is looking into practices at the farm and has asked the Maine Department of Agriculture to investigate.

But according to Shapiro, Hillandale Farms has a sordid history. Last year the owner, Jack DeCoster, was sentenced to federal prison for his role in the nation's largest egg recall.

"In 2009, when Jack DeCoster was managing this facility in Maine, the company settled charges of animal cruelty that led the company to pay a $25,000 fine and an extra $100,000 for the state to help with egg farm inspections," he says.

Last week the Humane Society filed complaints with the Maine Department of Agriculture and the Federal Food and Drug Administration, requesting they investigate the facility.

Major companies, including Costco, McDonald's and Walmart, have promised to buy only cage-free eggs. Shapiro says that's not only better for the chickens, it's healthier for consumers too.

"The Consumer Federation of American and the Center for Food Safety endorsed this switch to cage-free systems because they know that cage-confined operations tend to have more salmonella than do cage-free operations," Shapiro says.

A 2010 Salmonella outbreak that sickened tens of thousands of people was traced to an Iowa facility owned by Jack DeCoster.
Andrea Sears, Public News Service - CT