New "Threat Map" Targets Emissions from MT Oil, Gas Sites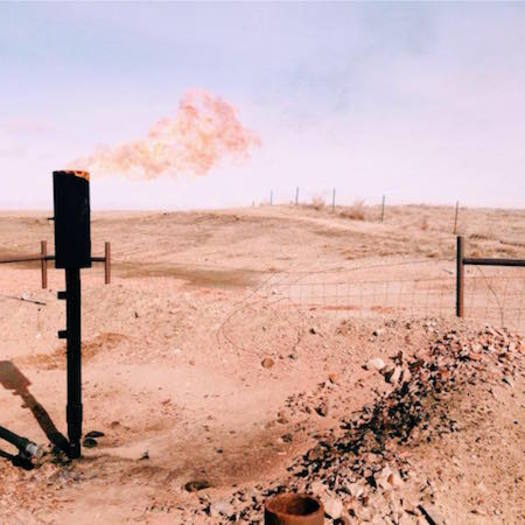 Gas flares on Pat Wilson's cattle ranch near Bainville, Mont. (Caitlyn Cromwell)
June 17, 2016
BANEVILLE, Mont. - More than 6,000 Montanans live within a half-mile of the state's almost 9,800 oil and gas facilities, according to a new mapping tool released this week. Two nonprofit groups, Earthworks and the Clean Air Task Force, are behind the website, Oil and Gas Threat Map. It pinpoints locations of 1.2 million active oil and gas sites in the United States, many near schools or hospitals.

Pat Wilson, a cattle rancher near Baneville who lives near 12 oil facilities in the Bakken Formation, said he wonders if that contributes to his persistent cough and his wife's worsening asthma, and said the map ought to wake more people up to the problem.

"The vast majority isn't aware of the magnitude of the impact, and here it is, in black and white," Wilson said. "It's shocking that there are 12.4 million people that live dangerously close to oil facilities."

Oil and gas operations have been shown to leak methane, a greenhouse gas, and a list of toxic chemicals including benzene, formaldehyde and methylbenzene -- all of which have been linked to various ailments.

Conrad Schneider, advocacy director for the Clean Air Task Force, said he hopes the mapping tool will inspire more people to take action on what they find.

"The beauty of this map is it'll allow concerned citizens to look up and learn their cancer and other respiratory risks from this toxic air pollution," he said. "We hope that, armed with this information, they will demand protective safeguards, requiring the industry to clean up its act and reduce these serious risks to public health."

The Obama administration recently finalized rules for methane emissions from new oil and gas facilities, and has pledged to work on rules to cover existing operations as well.

The map is available online at oilandgasthreatmap.com.