World's Largest Popcorn Ball Celebrates an Iowa Crop Comeback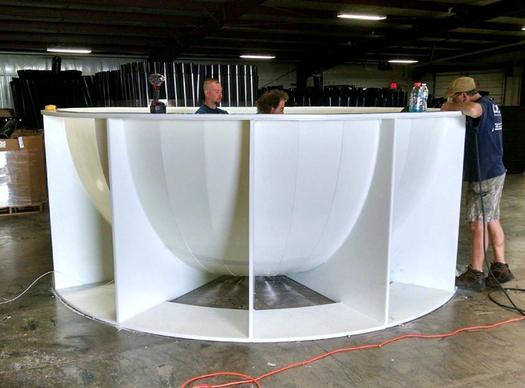 This base supplied by Lundell Plastics will hold what the people of Sac City, Iowa, hope will become the World's Largest Popcorn Ball. (LundellPlastics.com)
June 17, 2016
SAC CITY, Iowa - Popcorn was once commonly grown by Iowa farmers, and that heritage is part of what's being celebrated this weekend in Sac City, where the World's Largest Popcorn Ball will be made on Saturday.

Rhonda Lines is chief financial officer for Noble Popcorn, which is supplying the raw materials for the big project. Since 1995, she said, giant popcorn balls have been constructed every few years, drawing people from across the state of Iowa and the United States.

"It's just like 'Wow!' I was kind of taken back a little bit," said Lines, "because I thought, you know, 'Who's going to see a popcorn ball?' But there are many people that do this."

She said the goal is to break 2009's 2.5-ton ball and reach three tons this year.

Besides attracting visitors and bringing the community together, the Sac City event helps the local 4-H club. Lines said it's also partly a celebration for a crop that's being grown more and more by family farmers in Iowa.

"Some of the farmers are saying, 'You know what? I'm going to grow popcorn and I'm going to just sell it,'" said Lines. "I think there's a comeback on it."

It's scheduled to take about 12 hours to build the ball at Noble Popcorn in Sac City. Lines said it's truly a hands-on experience.

"I'm anticipating people to come and watch it get built or even participate," she said, "but I also think it'll be an ongoing tourist attraction once we put it back at the museum. And we built a new building for it."

Yes, a new building – part of the Sac City Museum in the center of town. Construction of what could end up being the World's Largest Popcorn Ball is to start at 9 a.m. Saturday.

More information is online at SacCountyIowa.com.