Health Care Feedback Meant to Help Both Hospitals and Consumers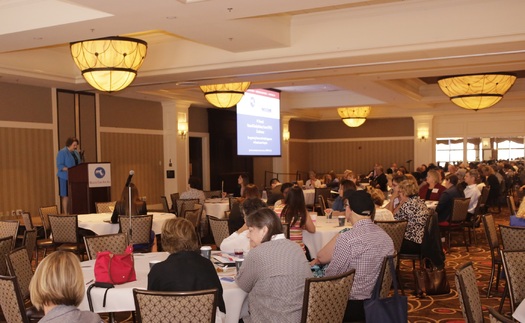 More than 300 people gathered in Norwood last week for an annual conference of the state's Family and Patient Advisory Councils. (HCFA)
June 27, 2016
NORWOOD, Mass. - The Commonwealth was first in the nation to mandate Patient and Family Advisory Councils (PFACs) designed to make delivery of health care more patient centered; and last week a conference was held with the goal of making consumer-to-hospital feedback even more effective. It was a get-together with patients, family members, hospital officials, health advocates and volunteers: the fourth annual Patient and Family Advisory Council conference in Norwood.

Nicola Truppin serves as a volunteer patient advisor at Beth Israel Deaconess Medical Center. She said the volunteers' functions have expanded over the years to include complex issues like quality of care.

"Lots of hospitals around the country have these councils or some form of them, but Massachusetts was the first state to mandate that all of the Department of Public Health licensed hospitals have a hospital-wide council," she said.

The councils, called PFACs for short, allow consumers to provide feedback on a wide range of issues including, at some hospitals, taking part in the review process when a medical procedure goes wrong. One of the goals of last week's conference was to help volunteer advocates learn new skills so the councils can have a bigger impact.

Margo Michaels is director of consumer engagement with Health Care For All, which sponsored the conference. She said they initially had to overcome doubts that some doctors and administrators had when councils first started.

"'Why is this consumer here? I don't want to air our hospital's dirty laundry with this consumer;' but in fact this idea of partnership with consumers and hospital staff, we have to help both the hospital staff, the administrators and the physicians and nurses," she said. "We are all in the same boat, we want to make patient care better."

The conference also featured workshops on recruitment of new volunteers as well as what community engagement really means.