Coal-Ash Cleanup in NC: Broken Promises, Groups Say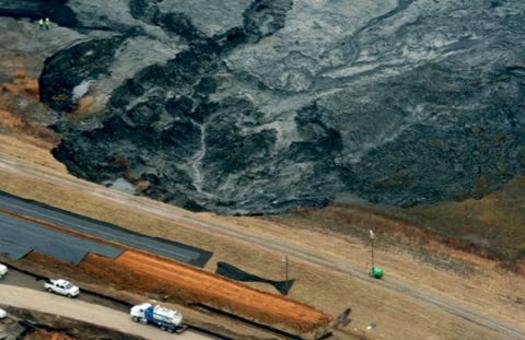 View of the 2014 Dan River coal-ash spill from the Duke Power Plan in Eden, a site that is still in need of cleanup. (Environment North Carolina)
June 30, 2016
RALEIGH, N.C. - After promises from Duke Energy and North Carolina's government that the coal-ash ponds in the state would be cleaned up and excavated, the state Senate is pushing ahead with legislation (HB 630) that would offer the power company a cheaper alternative. After its approval by the Senate on Tuesday, the bill now is in the House, where it is expected to pass and be signed into law by Governor Pat McCrory.

Dave Rogers, state director with Environment North Carolina, said the deal comes at the expense of taxpayers.

"Really, what it ends of being is a pretty sweetheart deal for Duke Energy," he said. "It delays the cleanup of coal-ash pits that are currently leaking all over North Carolina. Duke is far and away the biggest winner."

The proposed legislation would allow Duke Energy to leave the toxic ash in place if it supplies drinking water to neighbors of the ponds who currently are on well water. The company also would have to repair at risk dams located around some pits. Senator Tom Apodaca of Henderson County is the sponsor of the legislation and calls it a compromise between environmental groups and the energy giant that employed McCrory for 30 years before he took office as governor.

In May, the Department of Environmental Quality released risk ratings for coal-ash pits across the state and they were deemed intermediate or high risk. The state agency recommended the coal ash be removed by 2024. Now the same department and McCrory are asking lawmakers to pass a cheaper option, Rogers said.

"It's not only a broken promise, but it actually goes against the science that even Governor McCrory's administration has conducted in terms of research," he added.

Rogers said citizens still have time to contact their lawmakers and ask them to reconsider passing the legislation into law.