Proposals for Renewable Energy Access Rejected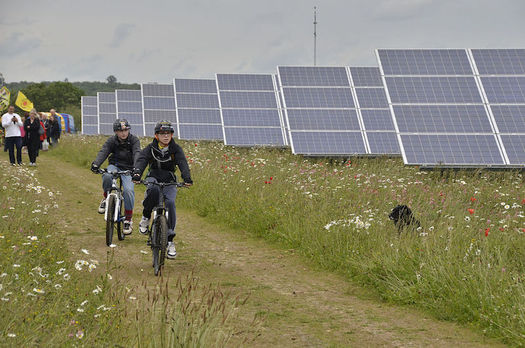 Low-income New Yorkers face barriers to participation in shared renewable energy projects. (MrRenewables/Wikimedia Commons)
August 18, 2016
NEW YORK – The Public Service Commission has rejected proposals for helping low-income New Yorkers participate in shared renewable energy.

When the Shared Renewables Initiative was enacted last year, Gov. Andrew Cuomo said everyone would have access to clean, affordable power.

The PSC convened a Collaboration of organizations and businesses to submit recommendations for achieving that goal.

Anthony Giancatarino, director of policy and strategy at the Center for Social Inclusion, part of the Energy Democracy Alliance, says the PSC's report, originally due months ago, was finally released on Monday, and none of its recommendations had been accepted.

"They dismissed it, leading to a very business-as-usual default, and said that they will put together a white paper that actually will look toward utility controlled solutions as the answer," he states.

Giancatarino says that means low-income New Yorkers who want to take advantage of shared solar power will continue to face barriers such as lack of capital and limited access to credit.

According to Giancatarino, the collaborative had made several recommendations for initiatives that already have been shown to work.

"There's some really good models taking shape around solar cooperatives around the country and in particular in Massachusetts and even in New York itself," he points out. "People actually cooperatively coming together to own a project."

The PSC offered no explanation for why it considers the recommendations unworkable, and recommended that the Collaboration be suspended.

The Shared Energy Initiative is part of the governor's broader Reforming Energy Vision, or REV, that Giancatarino hopes will someday serve as a model for the country.

"There's a lot of hope and a lot of energy both that the government has put in and that the community has put in, and this is just a little disheartening to see that this most recent decision comes down falling on deaf ears," he states.