Iowa Growers Reap the Benefits of Summer Small-Grain Harvest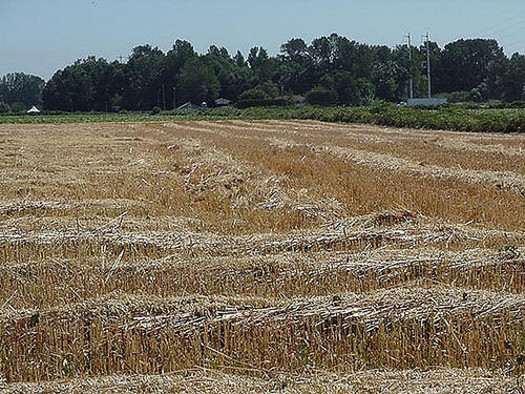 Adding a small grain such as oats as a third cash crop brings environmental and economic benefits.
(B.G.Z Olson/Flickr)
August 24, 2016
DES MOINES, Iowa - Some Iowa farmers are making a practice of the past part of their future.

At one time, small-grain production was an integral part of most agricultural operations in the state and Iowa was a national leader in oat production in the 1950s. However, said Earl Canfield, owner and operator of Canfield Family Farm in Dunkerton, there now are very few acres of oats, rye or wheat.

"Along with the fact that it's not very common, the knowledge base that allows farmers to successfully raise crops like that in Iowa has largely disappeared over the last several generations," he said. "Also disappearing is much of the equipment and infrastructure."

Canfield is among farmers in the state who realize the value of adding small grains. He just completed his oat harvest as a third crop in his corn-soybean rotation. According to Practical Farmers of Iowa, adding small grains as a third crop improves soil structure and water quality while reducing the use of pesticides and nitrogen fertilizers.

Because small grains are harvested at a different time of year than corn and soybeans, Canfield said diverse rotations help spread out labor and provide more steady cash flow throughout the year.

"As any astute business person knows," he said, "any time you can diversify your income streams, it gives you a certain measure of insulation to ups and downs in the market."

Finding a marketing mechanism is among the challenges in small-grain production. Canfield noted that oats are consumed in Iowa, but generally shipped in from the Dakotas or Canada. He encouraged Iowans to see the benefit of purchasing small grains locally.

"Any time they can buy seeds that are produced here in Iowa, it provides direct benefits to Iowa first rather than sending all the benefits out of state," he said. "I think that's a win for everybody in this state."

Another avenue is to sell harvested small-grain seed to other farmers, who can plant it as a cover crop. For the oats he grows, Canfield is exploring the possibility of selling to horse owners and other livestock owners who need feed.

Growers can learn more about small-grain production online at practicalfarmers.org.
Mary Kuhlman, Public News Service - IA