New Data: More Folks on the Road = 20% Spike In MA Traffic Fatalities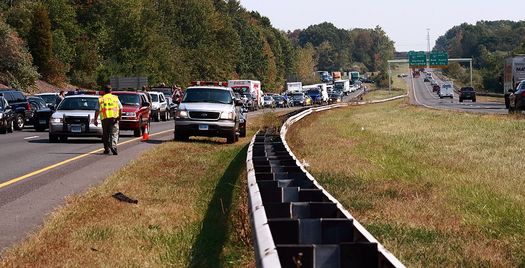 As Bay Staters prepare to hit the roads for Labor Day, new data shows a 20 percent spike in local traffic fatalities in the first half of this year. (Ragesoss via wiki)
August 29, 2016
BOSTON — The fall in gas prices means Bay Staters are driving more, and according to new data, that's resulted in a 20 percent increase in motor vehicle fatalities in the first half of 2016.

According to Kirstie Pecci, staff attorney with MASSPIRG, data from the National Safety Council showed that the more people drive, the more people die. And that's unacceptable, she said.

"Most car crashes are happening in the same places in communities over and over again," Pecci said. "So those lives that our lost, that's not an accident, that's a bad design in the road."

In 2016, there were 179 motor vehicle fatalities from January through June in the Bay State. That's a 20 percent increase compared to the same period in 2015.

Pecci said the spike in local traffic deaths is the human cost of failures to adequately invest in road repair, as well as in transit, biking and pedestrian choices.

"There are many people who could be taking a bus, or taking the subway, or taking a train," she said, "all of which are safer options than the car deaths that we have right now. "

Since driving is one of the most dangerous forms of transportation, Pecci said the nation shouldn't keep pouring billions into constructing more highways while not investing in alternatives.

"The more people we get off of the road, the healthier our society will be - because of car crashes, and also what we are doing to our environment," she said. "If you are biking or walking, it is also better for your personal health. There's a lot of reasons we should be transforming this system."

The NSC is predicting more than 430 deaths nationwide during the Labor Day weekend, which would make it the deadliest Labor Day since 2008.

More information is available at masspirg.org.

Mike Clifford, Public News Service - MA