Public Comment Period Ends Tomorrow on Proposed Grand Canyon Tram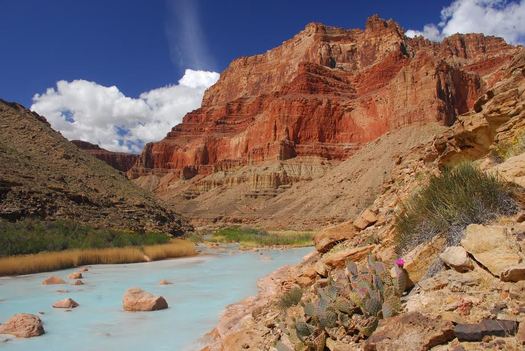 The public comment period ends Sept. 3 on a plan to build a gondola to the bottom of the Grand Canyon. (Thomas O'Keefe)
September 2, 2016
GRAND CANYON, Ariz. - Tomorrow is the last day to comment on whether a private developer should be able to install a high-wire tram in the Grand Canyon.

The Grand Canyon Escalade project would include a gondola that would descend to the canyon floor and a 420-acre amusement park-type amphitheater, river-walk and restaurant. The tram could take up to 10,000 people a day to the confluence of the Colorado and Little Colorado Rivers.

Tania Lown-Hecht, communications director for the advocacy group Outdoor Alliance, said her group thinks the project is a terrible idea.

"This is an incredibly precious place; it's long been considered sacred," she said. "I think nearly every American agrees that there are places on this earth that are too special to develop, and the Grand Canyon is one of them."

The area is part of the Navajo Nation. The Navajo Tribal Council considered a bill to authorize the project, this past Monday.

Any public comments must be received by 5:00 p.m. (local time) tomorrow, and can be sent to this email address: comments@navajo-nsn.gov.

The U.S. Interior Department has the power to intervene in the process, but has not stepped in thus far.

Hecht pointed out that thousands more daily visitors could do a lot of damage to a fragile environment and thinks the project is unnecessary.

"There are already actually a lot of ways you can access it, dirt trails where you can walk down, you can take a mule, there are rafting trips, helicopter rides," she added.

The Grand Canyon currently sees five million visitors a year. Supporters of the Grand Canyon Escalade project say it will create jobs and revitalize the local tribal economy.

Opponents of the project also include the Grand Canyon Trust and the group Save the Confluence.