Census: Virginia Lags Behind U.S. Progress on Health Coverage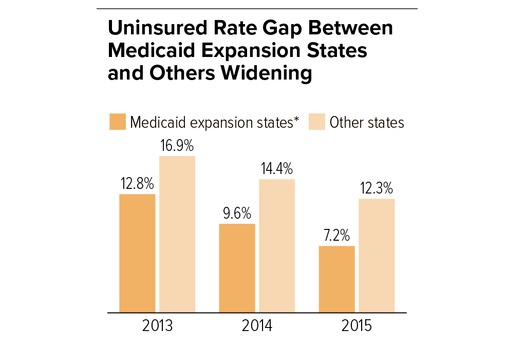 Census figures show states such as Virginia that have not expanded Medicaid are seeing much slower progress in getting people insured. (CBPP, based on U.S. Census Bureau figures)
September 14, 2016
RICHMOND, Va. - Census data shows record progress in getting Americans covered by health insurance, but it's going much more slowly in Virginia.

About 9 percent of Americans lack insured health care, according to 2015 figures, the lowest level ever recorded. However, the Census Bureau said states such as Virginia that have not expanded Medicaid are seeing less positive results.

Laura Goren, research director at the Commonwealth Institute for Fiscal Analysis, said the rate of uninsurance fell about twice as fast in two neighboring states that did opt for Medicaid expansion.

"While neighboring states such as West Virginia and Kentucky are making big progress," she said, "746,000 Virginians still lack health insurance."

The General Assembly has so far blocked efforts to expand Medicaid to cover the working poor, which is an option under the 2010 Affordable Care Act. Opponents have argued that Obamacare is an unworkable expansion of government power.

The census numbers show what's described as record improvement - not only in health-care coverage, but also in a falling poverty rate and a rising median income. Robert Greenstein, president of the Center on Budget and Policy Priorities in Washington, said the United States hasn't seen strong economic progress like this - in all three numbers at once - in nearly 20 years.

"Today's census report can only be described as excellent news," he said. "For the first time since 1999, the three key indicators of well-being all moved decisively in the right direction."

One argument against Medicaid expansion has been that the state can't afford it in the long term. That is likely to be an issue at the next General Assembly, as the state faces a two-year budget shortfall of about $1.5 billion. However, Goren said that since the feds pay almost all the cost of expansion, what she calls closing the coverage gap also would help close the state budget gap.

"We could close the coverage gap starting this coming July," she said, "and save the state $211 million during the next budget cycle."

More on the census numbers from the Center on Budget and Policy Priorities is online at cbpp.org.