Prevention of Sexual Assaults "Everyone's Responsibility"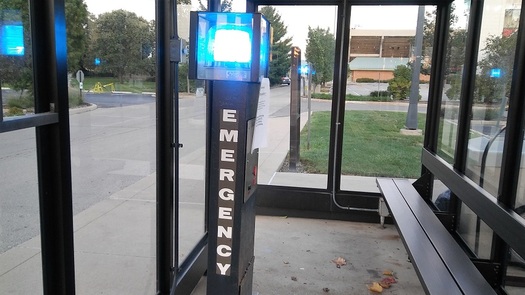 Blue-light call boxes dot college campuses, which are now in the Red Zone, the first 10 weeks of a new academic year when a higher rate of sexual assaults occur on campus. (Greg Stotelmyer)
September 19, 2016
LOUISVILLE, Ky. - With college classes in full swing and dorms teeming with eager and excited students, there is one unwelcome part of the new academic year - the "Red Zone." That's the first six to 10 weeks of the semester, when a higher percentage of sexual assaults occur on college campuses.

Eileen Recktenwald, executive director of the Kentucky Association of Sexual Assault Programs, said "bystander intervention" has become an important part of prevention, both on Kentucky's college campuses and in high schools.

"These are the things we always used to say - 'Go with your friends.' Well, you know, if somebody is intent on sexually assaulting you, they will take you away from your friends. They will isolate you in some way," she said. "A bystander is taught what to look for, what kind of vulnerability."

Recktenwald said bystander intervention can safely and effectively help reduce sexual assaults, and pointed to the Green Dot program, which was created and first used at the University of Kentucky. A five-year study in more than two dozen Kentucky high schools found Green Dot reduced sexual violence by more than 50 percent.

The Red Zone warning is being sounded on college campuses across the country. Irene Dwinnel, who runs a rape crisis center in Orange County, N.C., agreed with Recktenwald that everyone can play a role in protecting fellow classmates.

"This is an 'everyone's' responsibility," Dwinnel said. "So for example, if you're going to tell your daughter, 'Don't go anywhere without your phone charged' - same information to your son, and to ensure that our now college-age sons and daughters feel confident and competent to potentially interrupt the situation."

According to the National Sexual Violence Resource Center, nine out of 10 victims of rape or sexual assault know their attacker, and it's estimated that for every 1,000 women attending a college or university, there are 35 incidents of rape each academic year.
Greg Stotelmyer , Public News Service - KY