Hunger Action Month: Pantries Changing Way They Feed Those in Need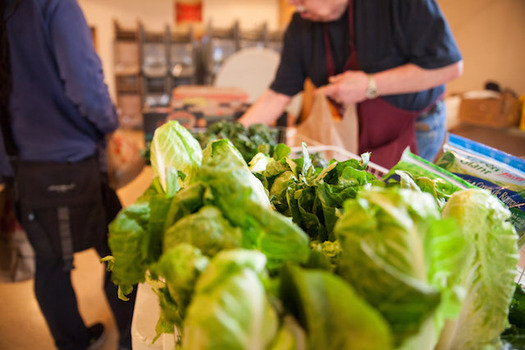 Food pantries across Oregon are offering more fresh produce and a grocery store-style shopping experience. (Oregon Food Bank)
September 27, 2016
PORTLAND, Ore. – September is Hunger Action Month, and many pantries in Oregon are changing the way they serve food to the community. Instead of giving out brown boxes filled with canned foods, many food pantries in Oregon are giving families an experience closer to shopping at a grocery store.

Jen Turner, the regional network developer of the Oregon Food Bank said the organization's Healthy Pantry Initiative is putting fresh food first and also inviting pantries to make their space warmer and more inviting.

"So that can mean offering samples or food demos in that pantry, inviting nice smells and tastes, and facilitating opportunities for conversation," Turner explained. "The overarching vision for it is that food pantries don't have to be sort of depressing places."

According to a recent report from the USDA, about 644,000 Oregonians were considered "food insecure," or struggled to put meals on the table at some point between 2013 and 2015. Of those, more than 200,000 were children.

Tracy Smith is the program coordinator for Tualatin Schoolhouse Pantry. She said fresh produce has become the centerpiece of her pantry, changing the look and feel of it.

"Four years ago, we had one eight-foot table of produce, and then that grew to three overflowing tables, so we actually rearranged our entire pantry," she said. "We were excited to receive some produce displays from Whole Foods when they remodeled, and so now actually have an entire aisle in our grocery-store area dedicated to produce."

Turner said pantries get their fresh produce in a number of ways. Oregon Food Bank's Fresh Alliance program picks up mainly perishable items from major grocery stores and distributes them to local pantries. She said local farmers are donating lots of fresh produce, as well as members of the community.

"We have a plant-a-row program where we get a lot of donations from individuals, like give their community gardens or household gardens. If they're growing, you know, extra zucchini and stuff like that, we're often getting donations, and a lot of times those donations are going straight to our partner agency in that community," Turner said.
Eric Tegethoff, Public News Service - OR