Report Questions Safety of Oil Field Wastewater on Food Crops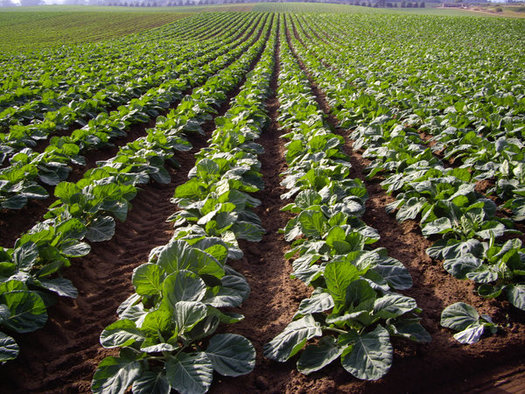 A new report questions the safety of using oilfield wastewater on crops. (BelfastEileen/iStockphoto)
October 7, 2016
BAKERSFIELD, Calif. – The aquifer and food crops in California's Central Valley may be tainted with chemicals from nearby oil fields, according to a new report.

Researchers from four institutions, including Lawrence Berkeley Labs, looked at 173 chemicals used in oil and gas production and found that more than 100 have been flagged in the federal chemical database for acute toxicity, biodegradability, and environmental persistence. Ten are considered carcinogenic or are suspected of causing cancer.

Patrick Sullivan, climate media specialist at the Center for Biological Diversity, said the waste water, also known as produced water, could be finding its way into the food and water supply.

"These oilfields are supplying produced water to irrigate crops and recharge underground aquifers that supply water for agriculture, but also for people to drink," he explained.

The California State Water Resources Control Board said water districts in the Central Valley have been distributing produced water for 30 years, and that they meet all water quality standards.

Maryam Barajas, public information officer for the board, noted that no study has shown health hazards from produced water, and no water from fracking is allowed on food crops.

However, Barajas added that the Central Valley Regional Water Quality Control Board has convened a Food Safety Panel to investigate. It has met twice but hasn't recommended any changes thus far.

"If the Food Safety Expert Panel comes back and recommends a moratorium on the use of produced water for irrigation, then the Central Valley Regional Water Board will no longer permit that process," she said.

The report alleges that oil companies are withholding information on 38 percent of the chemicals they admit to using, claiming that they are trade secrets.

Sullivan insists even the ones that are known aren't being monitored closely enough.

"Current water-testing procedures in these areas do not test for many of these chemicals," he added. "They just are not set up to do that."

The Cawelo Water District near Bakersfield disputes that claim, saying the district hired a toxicologist to monitor an additional 70 organic compounds, and found its water to be safe for agricultural use. The district also tested fruit and nuts raised with produced water and found their chemical composition to be no different than crops raised on other water supplies.
Suzanne Potter, Public News Service - CA