October Farm to School Month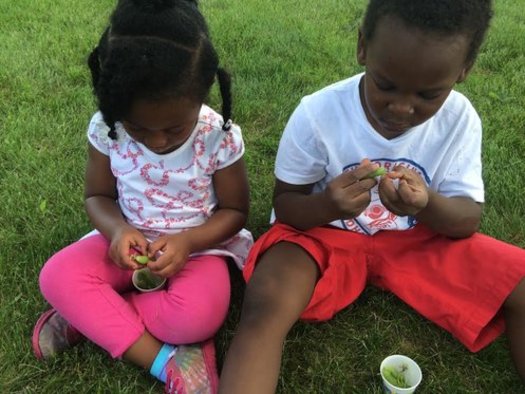 Letting children touch, feel and taste locally grown foods is part of National Farm to School Month observations in October. (Institute for Agriculture and Trade Policy)
October 10, 2016
MINNEAPOLIS – Getting locally grown fruits and vegetables into the hands, and eventually the diets of young Minnesota children is a year-round endeavor, and is being highlighted this month during National Farm to School Month.

Katie Costello, a Farm to Institution Program assistant with the Institute for Agriculture and Trade Policy (IATP), says the Institute has been working with school districts for several years, but has recently taken fresh fruits and vegetables to child care facilities, early learning programs and to preschools as well.

"We know that it takes kids between eight and 20 exposures before they'll accept a new food and develop a taste for it," she explains. "So, that's sort of the rationale behind giving kids so many opportunities to interact with a food, is to get them to get really excited about it and be familiar with it, so they're more likely to actually eat it and enjoy it."

Farm to School Month was created to recognize the importance of teaching children about food origins, promote lifelong healthy eating habits, and to support local economies.

Costello says taking the produce into the classrooms helps develop a relationship between the children and farming.

She adds the program incorporates creative ways to get the children to try things they might not otherwise.

"So, the kids were learning about it in the classroom, they were getting a chance to taste it in different preparation methods," she explains. "The targeted vegetable was zucchini. They would get it in several different ways – cooked, maybe raw zucchini, roasted. "

Costello says more than 100 school districts in Minnesota participate in Farm to School programs, but there is no statewide framework to coordinate and promote it.

She says the IATP will keep talking with state lawmakers about continuing the collaboration between schools and local farmers.