Fight for 15 Ramps Up Ahead of Election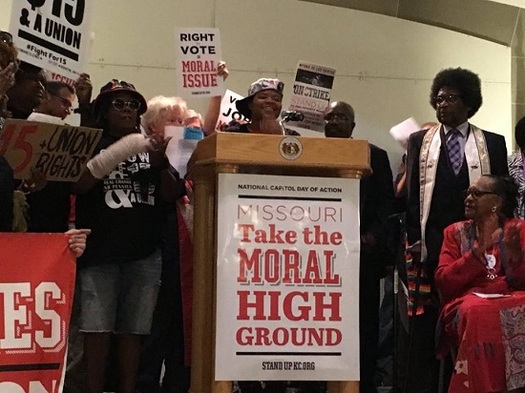 The movement to get a $15 hourly minimum wage is focusing on the swing states ahead of the election. (Fight for 15)
October 26, 2016
KANSAS CITY, Mo. – There's a push in the last couple of weeks before the election to get the 64 million Americans who make less than $15 an hour to get out and vote.

This week, Fight for 15 Kansas City hosted a Facebook Live Town Hall event, featuring first-time voters from swing states explaining why they will be casting a ballot for the first time.

Latifah Trezvant is a fast-food worker in Kansas City who makes $8.50 an hour. She told the Town Hall participants she can't survive on that, and wants to support candidates who will make sure people like her make a living wage.

"We're calling on all these candidates to let them know that if they're not for working people – or if they're not for immigration, or the people – then they're not going to get our vote," said Trezvant.

A 2015 poll of workers by the National Employment Law Project showed that 69 percent of unregistered voters would register to vote if there was a candidate who supported a $15-an-hour minimum wage and a union.

Patricia Walker, another first-time voter, described herself as a home-care health worker from Tampa, Fla., who will hold the candidates who win accountable.

"Even after the election, we're going to continue to fight so they don't forget that if we put you in that office, we still want you to do what you say you were going to do," Walker insisted. "They won't forget Fight for 15, they won't forget our movement, because we'll always be there. They're going to always hear us."

Fight for 15 has been canvassing voters in the swing states of Missouri, Pennsylvania, Florida and North Carolina. They've also held a series of strikes and protests throughout the presidential election season, calling on lawmakers to approve an hourly minimum wage of at least $15.