Bats, Jobs and Methane: Report Connects Dots in Ohio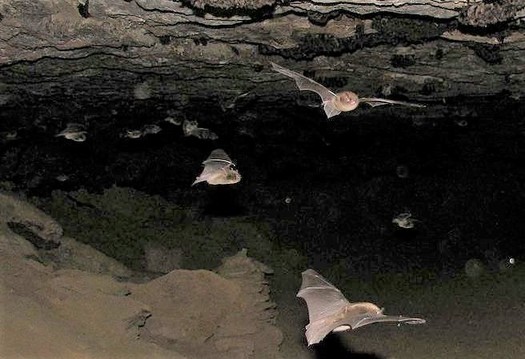 A National Wildlife Federation report says climate change, spurred by methane emissions, is threatening some bats in Ohio. (Andrew King/USFWS)
November 17, 2016
COLUMBUS, Ohio – Methane emissions from oil and gas production may be invisible, but a new report says the impacts on wildlife, health and Ohio's economy are not.

Scientists say methane is the second leading cause of climate change, which the National Wildlife Federation report contends is posing a threat to wildlife across the country.

Report lead author Shannon Heyck-Williams says that includes the Indiana bat, whose populations have declined.

"It is one of the most endangered species in the Cuyahoga Valley National Park and because of climate change, it's expected to lose most, if not all, of its summer range in Ohio," she points out.

On health impacts, the report shows Ohio has higher rates of asthma than other states, which Heyck-Williams says could be reduced by regulating methane emissions.

Ohio took action in 2014 by requiring operators to fix emissions from leaking equipment identified during quarterly inspections.

According to the research, more than a dozen Ohio companies now specialize in fixing pollution leaks, which Joe Sterling, the business agent, United Steelworkers Local 5000, says is boosting jobs.

As a sports enthusiast, Sterling notes the outdoor economy also stands to benefit from reducing emissions.

"In 2011, total expenditures on wildlife watching, hunting and fishing in the U.S. amounted to $54.9 billion," he states. "In 2012, wildlife recreation just in Ohio alone added $3.6 billion. When you take a look at that industry just alone, we need to do something to protect that."

Heyck-Williams applauds Ohio's efforts but says the state can play a stronger role in containing methane emissions.

"What Ohio can do now is help advocate for national standards because that would help level the playing field for Ohio and for all the businesses in Ohio that are already working to install new, more efficient technologies on the equipment," she stresses.

The report says the Environmental Protection Agency's methane rules for new and modified oil and gas facilities would reduce as much carbon pollution as is emitted by 11 coal-fired power plants.

Mary Kuhlman, Public News Service - OH