Colorado Children at Risk for Lead Exposure Aren't Being Tested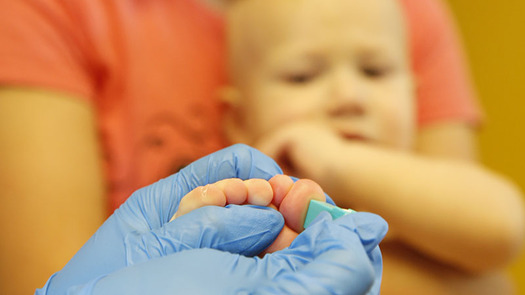 One-year-old Alden Mock is tested for lead exposure at the Pediatric Associates office in Montrose. (Nathaniel Wick for The Colorado Trust)
December 6, 2016
DENVER – Many children in Colorado are at a high risk for lead poisoning, but aren't being tested, according to analysis by The Colorado Trust.

State guidelines call for doctors to test children in low-income households, and in housing built before 1978, when lead paint was banned.

Mike Van Dyke, an epidemiologist with the Colorado Department of Public Health and Environment, says a simple blood test can show if children have been exposed through chipped paint, water or soil polluted by industry.

"So that we can identify that and we can get them proper treatment, proper medical follow-up, as well as identify the source of the lead exposure so somebody else doesn't get exposed to it," he stresses.

The analysis found 166,000 of Colorado's youngest children in low-income families should be tested, and more than 180,000 who live in older homes.

In 2014, an estimated 24,000 children were tested for lead, which even in small quantities can damage the brain and nervous system, slow growth and lead to behavioral problems and lower IQs.

Leadville established a strong lead-testing program after becoming designated a Superfund site.

But Lake County nurse Lynn Nickle says many residents still don't know children can be at risk just by playing outside in the dirt.

"What can you do to protect these children from being exposed?" she raises. "It's such a simple process, but you got to do it. You got to be aware of it. You've got to be diligent.

"That's where you have to do the education piece. The education piece is first and foremost."

The analysis shows lead poisoning is a structural barrier to the health and success of children in the state, and a disproportionate number are Hispanic.

Van Dyke says while Colorado has lower exposure rates than some Rust Belt cities, the water crisis in Flint, Mich. should be a wake-up call.

"It takes an incident like Flint to remind people that we still have lead in our environment, and lead poisoning is not a disease of the past," he points out.

"We need to remember that kids can still be exposed to lead from lead that's been around for years."

More information about testing locations can be found on the Colorado Department of Public Health's website.

This story was produced with original reporting from Kristin Jones for The Colorado Trust. Find out more at ColoradoTrust.org.