ACA Repeal Would Reverse Historic Health Care Gains in Arkansas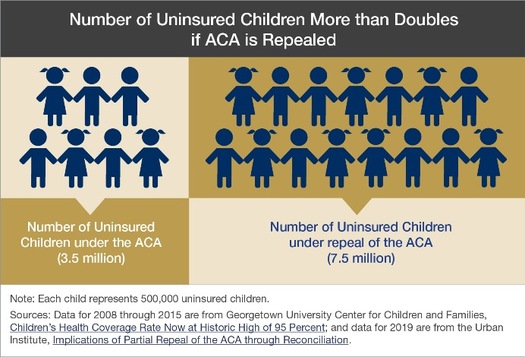 A report shows 7.5 million children would be uninsured if the ACA is repealed. (GUCCF)
December 12, 2016
LITTLE ROCK, Ark. – A new report shows attempts to quash the Affordable Care Act could reverse the tremendous gains Arkansas has made in improving access to health care coverage.

Congress is considering repealing parts of the health care law without immediately replacing it. It's a plan that an analysis from the Urban Institute shows would double the number of uninsured children nationwide.

Marquita Little, health policy director for Arkansas Advocates for Children and Families, says the ACA not only helped increase the number of adults and children with health insurance, it also boosted the economy by reducing uncompensated costs in hospitals.

"The Affordable Care Act really ushered in sort of a new era in the health care system in the state of Arkansas," she states. "We've really just been able to completely transform people's lives, and I think many of the benefits have yet to be seen."

The report shows that if the law is repealed, about 360,000 people in Arkansas would lose coverage and the majority would be in working families.

Joan Alker, executive director for the Center for Children and Families at Georgetown University, contends lawmakers should develop and approve a replacement plan before forging ahead with a repeal.

"Congressional leaders are moving very quickly to try to do this in January as soon as they return from the holidays, so people are not aware that this could happen so quickly and also they're not aware of the consequences," she states.

Little adds those consequences include huge holes in Arkansas' budget and health care safety net.

"We can't continue to kick the can down the road because states, quite frankly, will not be in a position to plan for having an unhealthy, uninsured population and kind of figuring out what the financial impact will be on the state," she stresses.

The report shows that over 10 years, Arkansas would lose $10 billion in federal funding to meet the health needs of its residents.



Mary Kuhlman, Public News Service - AR