Draft Pipeline Report Criticized as Incomplete, Insufficient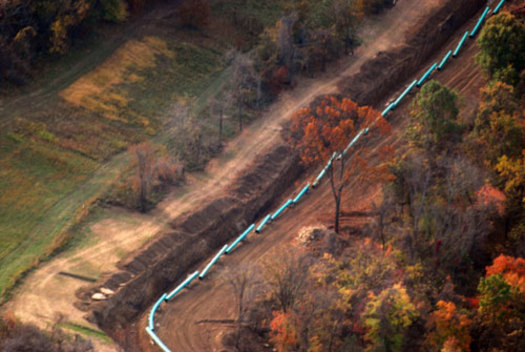 A draft environmental impact statement on the Mountain Valley Pipeline is drawing fire as incomplete. (Marcellus.org)
December 29, 2016
CHARLESTON, W. Va. – Some government agencies and citizens groups are criticizing a draft study by federal regulators of a huge gas pipeline that would cross West Virginia and Virginia.

The Federal Energy Regulatory Commission (FERC) has issued a Draft Environmental Impact Statement saying it sees only limited downsides to the Mountain Valley Pipeline (MVP).

The Environmental Protection Agency, the U.S. Forest Service and environmental groups charge the study is incomplete and insufficient.

Kate Asquith, director of programs for Appalachian Mountain Advocates, points out the MVP would cross three major waterways. But she says the study didn't even look at potential problems there.

"Mountain Valley is not even going to be required to submit this information before FERC issues its certification," she points out. "And then the worst part about it is that FERC goes on and concludes that those impacts wouldn't be significant anyway."

Energy companies argue that the 300-mile, $3 billion pipeline – and several others like it – are needed to open a bottleneck in getting Marcellus and Utica gas to eastern markets.

Another, similarly large project – the Atlantic Coast Pipeline – is right behind Mountain Valley in the approval process. Asquith says her organization expects a similarly cursory study in that case as well.

Asquith maintains FERC has been captured by the industry and relies on industry data. She says FERC has turned down one pipeline in the last three decades, even though the projects can cause serious problems for landowners and the environment.

"The agency is charged," she asserts. "There's a federal duty to analyze these impacts and analyze alternatives based on those impacts, and FERC just isn't doing that job."

FERC judges need for these pipelines - not with independent projections of demand and capacity - but whether the pipelines' backers can point to contracts to sell the gas.

Asquith points out that the firms signing those contracts often are branches of the same corporation. And the corporation has the right to require that ratepayers give it a guaranteed profit once the line is built.

"What our energy demand is, whether there is existing capacity, what future needs might be," she states. "Instead, FERC asks the builder – who has a financial incentive – to demonstrate that need, and, lo and behold, they always can show there is a need."

The Virginia Department of Environmental Quality and several federal agencies also have filed comments criticizing the draft study.