MLK Day on Campus: The Power of Service to Create Social Change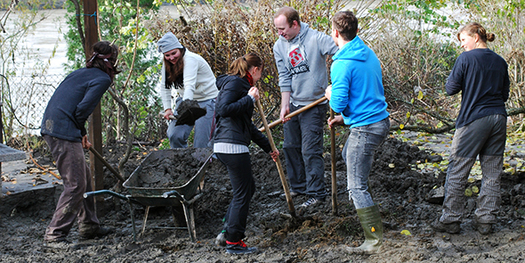 The responsibility of being a good citizen can be learned through volunteering. (Daniel Thorton/Flickr)
January 16, 2017
DES MOINES, Iowa – As the nation remembers Martin Luther King Jr., college students are among those in Iowa commemorating the life of the late civil rights leader through service to others.

This year's MLK holiday is especially significant for Central College, as it marks the 50th anniversary of King's speech there to a crowd of more than 1,300 people. Director of Community-Based Learning at the college Cheri Doane said King spoke of how positive change and progress toward social equality can be affected through courageous individuals. She believes it is a message that resonates today, in particular.

"Colleges and universities have an opportunity to prepare our students for lives of service," Doane said. "So, it's a natural fit for MLK Day to have a strong service component and just a recognition of civil rights and human dignity."

Around the state, colleges and universities are hosting projects this week, including volunteering at food banks, homeless shelters and other local service agencies. Other events will also be held, including forums, films, performances and art exhibits honoring King's legacy.

Charlotte Brown, coordinator at the Center for Student Involvement and Leadership at the University of Iowa, said King's legacy is a starting point for conversations about the responsibility of good citizenship. And she said it's a lesson many students learn after their first experience volunteering.

"This gives people the opportunity to connect with someone in the community, to connect with an agency or an organization that they can continue to go back to and build a relationship with and continue that service throughout the year," Brown explained.

At Central College, the theme of this year's Martin Luther King Jr. Day of Service project is "Water is Life," and Doane said volunteers will assemble water purification kits to be distributed internationally to communities in crisis. She said they hope to build awareness of the extent of water insecurity.

"It's pretty easy to live in a bubble and not understand the degree of need," Brown said. "It's sometimes just a moment of realization of the privilege that's involved with water."
Mary Kuhlman, Public News Service - IA