Workers Rally to Oppose Labor Nominee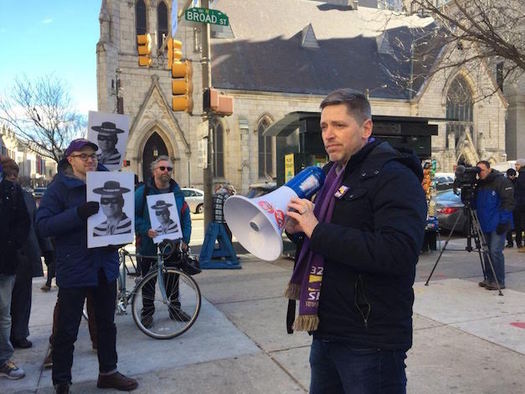 Gabe Morgan, 32BJ SEIU, leads a rally of low-wage workers in Philadelphia on Monday. (32BJ SEIU)
February 14, 2017
PITTSBURGH – Workers in the Fight for 15 movement rallied on Monday in opposition to Labor Secretary nominee Andrew Puzder. More than two-dozen protests were held around the country.

In Philadelphia and Pittsburgh, fast-food cooks, building cleaners, security officers and others gathered outside fast-food restaurants, calling on the U.S. Senate to reject President Trump's pick for Labor.

Gabe Morgan, vice president of Local 32BJ SEIU in Pennsylvania and Delaware, says the Labor Department is supposed to "foster, promote and develop the welfare of the wage earners of the United States."

"This is a fast-food CEO who objects to paying people minimum wage, has been investigated by OSHA 96 times, and opposes overtime pay," he said. "He's really the opposite of everything the Department of Labor was originally created to do."

Republican Senator Lamar Alexander, chair of the Health, Education, Labor and Pensions Committee, has called Puzder "a business leader who understands how excessive regulation can destroy jobs."

But Steve Kelly, a commercial building worker with 32BJ in Pittsburgh, says the problem for workers is not regulations. For workers at Puzder's restaurants, the biggest problem is a minimum wage that hasn't gone up in years.

"I've heard stories from many workers who work in fast-food restaurants and other businesses where they're saying, 'You know, $7.25, $8 an hour, you cannot survive on that,'" he said.

The National Employment Law Project estimates that the low pay Puzder gives his workers is costing taxpayers $250 million a year in public assistance like food stamps.

Morgan notes that the nominee supports repeal of the Affordable Care Act and cuts to Medicaid, programs Puzder's own workers rely on for their health care.

"Workers in this country need more, not less," he added. "And no one has more directly worked to take things away from hard-working people at their jobs than this guy."

Puzder's confirmation hearing is scheduled for this Thursday.