Big Weekend Gun Show Ends, Bill To Kill Concealed-Carry Permits Remains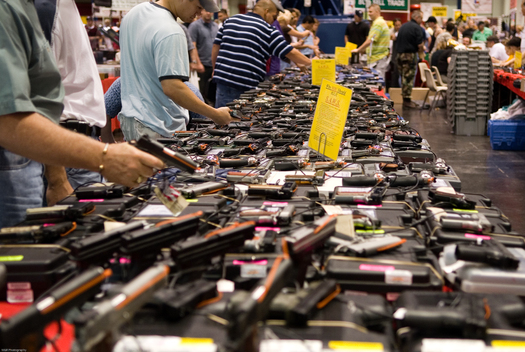 The proposed loss of mandatory firearm training required for a concealed carry permit in Colorado is raising concerns about Senate Bill 17-116. (WikiMediaCommons)
February 20, 2017
DENVER -- Attendance at the Tanner Gun Show this weekend was "comparable to last year" according to representatives. The show is the largest firearm retail event in Colorado - three times larger than its nearest competition - and attracts a significant weapons industry presence in the state.

Meanwhile, this week Colorado state senators consider SB 17-116, a bill to remove the permit requirement to carry a concealed handgun in Colorado.

Joe Deedon is a former Jefferson County Deputy who owns Tac One, a company that sells at the Tanner Gun Show, and provides training for law enforcement and the general public.

"The only issue I have with the right to carry without a permit is just the basic training that's required," Deedon said. "I just think that without a little bit of training, somebody can go from a law abiding citizen to now being faced with criminally negligent homicide or manslaughter charges in a split second."

Despite his concerns, Deedon said he still thinks permits should not be required. Colorado has no waiting period nor training requirement for regular gun purchases. 11 states and the District of Columbia have waiting periods to reduce impulsive acts of violence.

The proposed legislation would remove the need for a permit - or any obligation at all, depending on where the gun was purchased - in order to carry a concealed handgun in public. Mike McLively, an attorney with the Law Center to Prevent Gun Violence, opposes bills like this one that are being proposed across the country.

"To do away with the permit requirement, I could have no experience with a handgun whatsoever - not know how to use it - go to a store in Colorado, buy that handgun and then just have the instant ability to just walk around in public without any training," McLively said. "It just doesn't make sense."

Opponents of such legislation are concerned the proposed rollbacks would "reduce or eliminate the authority of law enforcement to deny permits to potentially dangerous individuals," according to the Center.

21 other states rejected similar legislation in 2015, according to Sen. Steve Fenberg, D-Boulder, who opposes the bill.

SB 17-116 will make a quick stop at the state finance committee this week before going to the Senate for a vote. Even if it passes the Senate chamber, it is expected to face steep opposition in the Democrat-controlled House.