Colo. Senate Takes Up Bill to Squash Oil & Gas Protest Actions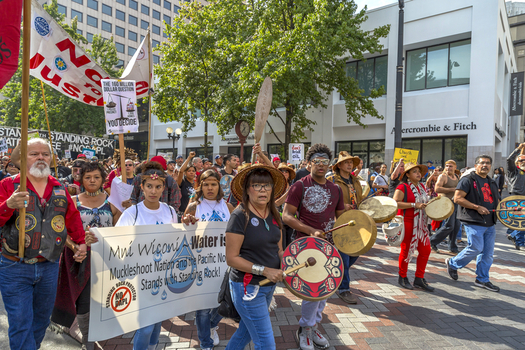 Activists are concerned that Colorado legislation to make tampering with oil and gas operations a felony is a way to reduce environmental activism. (Wikimedia Commons)
February 27, 2017
DENVER - A bill on the Colorado Senate floor today would increase the penalties for disruptive behavior at fossil-fuel sites.

Tampering with industrial equipment at an oil or natural gas site is a Class Two misdemeanor in Colorado, but Senate Bill 17-035 aims to make it a Class Six felony. If passed, punishment for the new and expanded definitions of violation could include a $100,000 fine and up to 18 months in jail.

The bill's sponsor, Sen. Jerry Sonnenberg, R-Dist. 1, has said it's about safety. Objectors say it's a way to create fear among activists who try to disrupt business to protest the fossil-fuel industry.

Shelly Nanter is with the Fort Collins branch of Water is Life, a group connected to the Dakota Access Pipeline protests.

"It is a veiled attempt, really, to keep peaceful protesters or any kind of peaceful actions away from any oil and gas activity," said Nanter. "Those kind of actions that would create bodily harm are already covered in other criminal charges that you could bring up."

Nanter and more than 20 others who showed up at a Senate committee hearing last month to speak out against the bill contend current penalties are enough to deter dangerous behavior without infringing on First Amendment rights.

The penalty outlined in the legislation is equal to possession of up to two grams of crystal meth.

Sonnenberg hasn't denied the bill is aimed at protesters, but claims its purpose is to protect the safety of workers, communities and the activists. The bill calls out, "any person who in any manner...attempts to interfere with...any equipment associated with oil or gas gathering."

Nanter feels this kind of open-ended wording points to a larger objective.

"The language is so vague that almost any kind of action - a peaceful protest on the side of the street - could be construed as going in and tampering with a valve," she said.

Nanter added other bills have targeted protesters in other states. In North Dakota, where activists halted construction of the Dakota Access Pipeline for weeks, legislation attempted to move the legal burden of proof onto pedestrians if they were struck by vehicles while blocking a roadway.