Trump Address Sparks Debate: Foreign Aid, or Military Spending?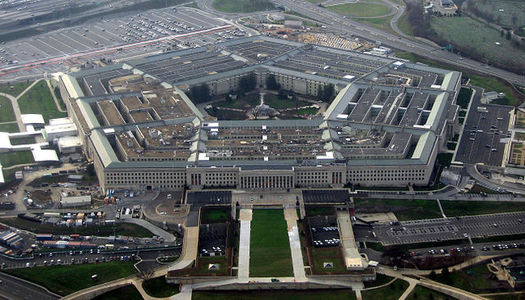 With President Trump proposing a big boost in Pentagon spending, some believe it could put other important security tools at risk, including the State Department. (DB Gleason/Wikimedia)
March 1, 2017
BOSTON – President Donald Trump's call to increase military spending by $54 billion likely means cuts will be made to some politically-sensitive programs, from education and the environment, to science and fighting poverty. Trump first announced his plans Monday to the National Governors Association and shared more details in a speech to Congress last night.

Paul Kawika Martin, the policy director for the group, Massachusetts Peace Action, says one goal of federal spending is to help Americans feel safe, but he notes the nation already spends more than half of its discretionary budget on the Pentagon, and the additional money has to come from somewhere.

"So, that's at the cost of other security tools, such as the State Department," he said. "I mean, those are the people that negotiate things so you don't have to send troops in, in the first place, we don't have to spend 'blood and treasure' on expensive wars. We all know how expensive the Iraq war was."

President Trump has said the money will come from, in his words, a "revved-up economy." He has also said it's time for America to "start winning wars again." But the budget proposal has a long way to go, and some pushback from Congress is almost certain.

Lindsay Koshgarian, the research director of the National Priorities Project, says the U.S. spends 21 times more on the military than it does on foreign-aid programs, although in her view, foreign aid for causes like fighting hunger and disease does more to increase stability around the world.

"We actually get a lot in return for that money, in the form of added security for our country," she said. "And if we don't spend that money, we will need to spend money on the other side fighting wars, and I don't think that's a choice that anyone would want to make."

Koshgarian thinks any new military funding should come first from ending wasteful spending within the Pentagon itself. She adds programs that make people's lives better shouldn't be raided when some believe the Pentagon isn't doing its fair share to combat waste.
Mike Clifford, Public News Service - MA