Maine Opioid Deaths Up 26 Percent; How Many Suicides in the Mix?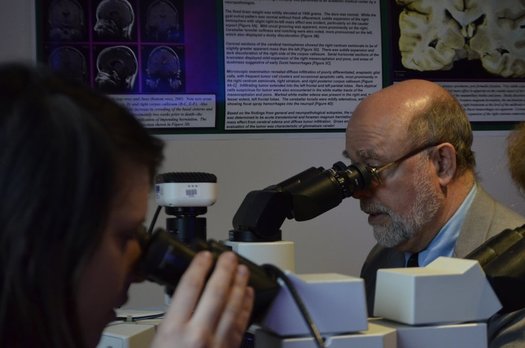 Dr. Thomas Andrew says it's a trend in most New England states; he has seen a 1,000 percent increase in opioid overdose deaths since he started his job as Chief Medical Examiner in New Hampshire. (Kay Andrew)
March 6, 2017
AUGUSTA, Maine -- New England is in the grips of an opioid drug epidemic, and a medical examiner who's been on the job for two decades says it's hard to separate accidental overdoses from cases of suicide.
Dr. Thomas Andrew has spent much of his medical career calling attention to the issue. He said in the 20 years he has been New Hampshire's Chief Medical Examiner, he has seen overdose deaths increase by 1,000 percent. With so many people dying of opioid overdoses, he said it's hard to determine how many actually intended to take their own lives.

"Last year, [there were] over 500 people - in a state that used to see 40 drug deaths a year," Andrew said. "How many of those drug deaths are truly accidental, and how many represent intentionally self-destructive acts? It's beyond my ability to sort of tease out. "

According to the Centers for Disease Control, opioid overdose deaths were up 26 percent in Maine between 2014 and 2015.

As Andrew put it, he works "at the end of the pipeline" in the epidemic. Unless someone leaves a suicide note or other evidence is found, he said the vast majority of opioid-related deaths are classified as accidental.

Andrew said lawmakers both in New England and at the federal level are starting to pay attention. But for too long, he said opioid addiction was viewed as a problem that happened to "other people."

"If we had that kind of 1,000 percent increase in homicides or traffic deaths, or asthma deaths, or breast cancer, people would be out there marching in the streets," he said. "Well, they finally are now, regarding these deaths."

He said that the federal government is often the main source of funding for drug-related programs, but it's up to New England states to allocate that funding wisely. He suggests addiction treatment should be a top priority.

Statistics for opiod overdose and death in the state of Maine are available here.
Mike Clifford, Public News Service - ME