Locking Up Parents Hits African-American Families Hard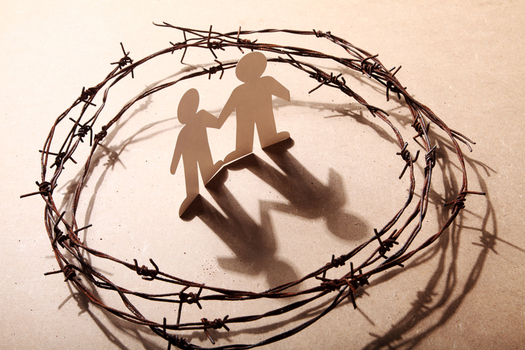 A new study confirms that sending parents to prison can't help but have profound effects on their children. (eskaylim/iStockphoto)
March 16, 2017
MADISON, Wis. -- A report from the Economic Policy Institute says 1 in 4 African American students has a parent who is or has been incarcerated - and educators haven't paid enough attention to what it calls a criminal justice crisis.

An African American child is six times more likely than a white child to have a parent who has been in prison. The study's lead author, Leila Morsy, a senior lecturer at the University of New South Wales, said policy reform should be a priority.

She said a disproportionate number of African Americans are arrested for drug crimes.

"African Americans are no more likely than whites to sell or use drugs, but they're three times as likely to be arrested," Morsy said. "Once they're arrested, they're more likely to be sentenced; and once they're sentenced, their sentences are about 50 percent longer than those of whites."

The report said all this affects their children's learning, and makes their children more likely to drop out of school, develop learning disabilities, and even suffer adverse health consequences. Morsy said criminal justice reform, particularly at the state level, should be a goal both for educators and legislators.

Racial disparities are evident in the justice system in Wisconsin as well. Jim Moeser, deputy director of the Wisconsin Council on Children and Families, said he agrees with Morsy about the effects on children when parents are locked up.

"Wisconsin's incarceration rate of black men in particular, black parents, is significantly higher than the national rate," Moeser said. "And it affects the economic situation and the emotional environment in which kids live, and has lots of aftereffects, in terms of stress and academic performance, and other issues."

He said Wisconsin needs to focus more on treatment than incarceration. He also believes the state should reverse the law that says 17-year-olds must be tried in adult court, and return them to the juvenile system where they can get treatment.

Morsy said there's a lot to gain from reforming the criminal justice system.

"Improvements in our criminal justice policies will lead to improved outcomes for children, and are very likely to contribute to narrowing the achievement gap," she said. "It will make teachers' jobs easier, and most certainly improve the outcomes for African American children, on average."

She suggested that educators join forces with criminal justice advocacy groups to achieve better outcomes.