Solid Reasons to Stick to Chocolate Bunnies, Avoid Impulse Pet Purchases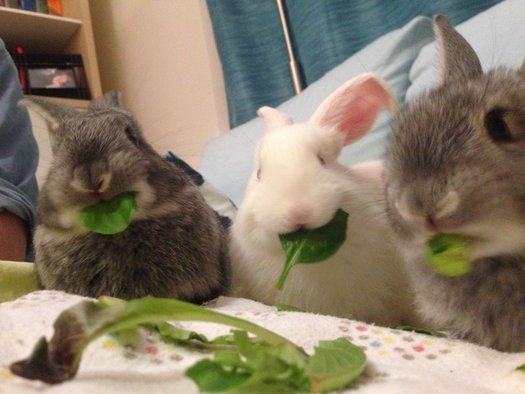 Animal-rescue advocates in New England are putting the word out ahead of the Easter holiday; rabbits should not be impulse purchases. (E. Hartman).
April 14, 2017
BOSTON – A real, live bunny may seem like a cute, cuddly Easter gift for a little one, but animal-welfare groups are cautioning Bay Staters to stick to the chocolate ones.

Susan Mangold of the Columbus House Rabbit Society says she co-founded the "Make Mine Chocolate" campaign 15 years ago as a way to reduce the number of rabbits coming into their care, especially when they were an impulse purchase.

"They go into a pet store around Easter and there are these adorable little baby bunnies, and who can resist a baby anything?" she asked. "The reality is, rabbits can live eight to 10 years or longer. They're a much more demanding, more high-maintenance pet than most people understand."

She says after Easter, local animal-rescue groups often are inundated with rabbits whose owners decide they don't want them. Her message is that animals aren't disposable, and she recommends that people stick to chocolate bunnies.

Betsy Hartman with House Rabbit Network says lots of folks in New England think that rabbits are great starter pets for children. She says they can be, so long as consumers do the necessary homework.

"They're fairly fragile animals that can be prone to illnesses that will require specialized veterinary intervention which can be really expensive; so while we are not discouraging people from getting pet rabbits - obviously I'm crazy about rabbits - we want to make sure that they know what they are getting into," she explained.

If the new owner of a bunny is struggling, Mangold says a local rabbit rescue can help out by either offering support so the animal can stay in the home or by locating a foster family.

"Certainly, they need to reach out and see if they can get some assistance," Mangold added. "The absolute last thing they want to do is dump the animal outside. That is a certain death because a domestic rabbit is completely unprepared to look after itself in the wild."

Mangold says an estimated four out of every five bunnies given as Easter gifts are abandoned or die in less than a year.
Mike Clifford/Veronica Carter, Public News Service - MA