Cuomo Urged to Appoint "People's Commissioners" to PSC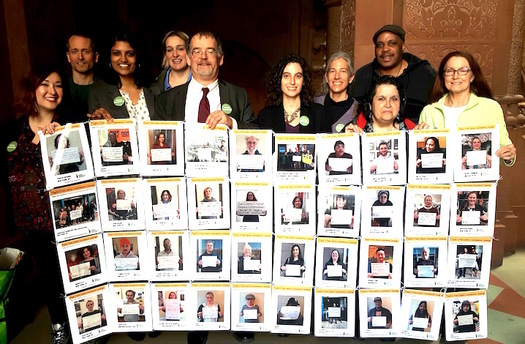 Advocates at the State Capitol displayed a mosaic of New Yorkers who want "people's commissioners" on the Public Service Commission. (K. Roache)

April 14, 2017
ALBANY, N.Y. – The people need a voice on the Public Service Commission. That's the message community leaders delivered to Gov. Andrew Cuomo on Thursday. Three of the five seats on the powerful Public Service Commission are vacant, and they're usually filled with people who represent the needs of the energy industry.

But Kelly Roache senior program manager at Solstice, an organization that promotes community solar power, was among those in the State Capitol calling on the governor to appoint a "people's commissioner" to serve the interests of the public and the environment.

"We want to make sure that people of color, low-income people and working-class people are all represented when it comes to making decisions about energy, telecommunications and water," she explained.

Members of the New York Energy Democracy Alliance are asking Cuomo to appoint PSC members who will pledge to work for a cleaner energy future.

The PSC recently approved a new method of compensation for clean energy through tariffs called "Value of Distributed Energy Resources," or VDER.

But Roache says it doesn't address the needs of developers of community solar for low- and middle-income New Yorkers.

"We're still having trouble making the economics work for these projects in a lot of parts of the state, and this policy was not a helpful development towards that," she added.

Cuomo's Reforming Energy Vision calls for reducing greenhouse gas emissions by 40 percent and achieving 50 percent renewable energy by 2030.

Roache calls that a "transformative and ground-breaking policy" and says it requires transformative and ground-breaking commissioners to become reality.

"We're hoping that this opportunity to appoint some commissioners who have that on-the-ground knowledge and experience will help to realize the vision before we get too deep into it," she said.

The Energy Democracy Alliance says the PSC needs commissioners who will remove barriers to community-based renewable energy, not add to them.