NY Assembly Passes Package of Voting Reforms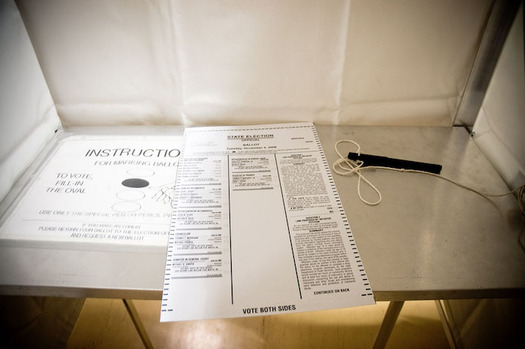 In 2014, only 29 percent of eligible New York voters went to the polls, the 49th worst turnout in the nation. (Heather Katsoulis/Flickr)
May 22, 2017
ALBANY, N.Y. – The New York State Assembly last week approved nine bills to reform and modernize New York's outdated election system.

If they become law, the bills would allow early voting and "no-excuse" absentee ballots, combine some primary elections, and allow online registration and automatic transfer of registrations when voters move within the state.

According to Dick Dadey, executive director of the group Citizens Union, New York has one of the lowest voter turnout rates in the nation, and these reforms are long overdue.

"This package of bills would allow New Yorkers to vote in different ways, and over several days, opening up the process of voting to make it more easy for voters," he explains.

Similar bills have passed the Democratic-controlled Assembly in previous years, but have not made it through the state Senate, where Republicans hold a slim majority.

Chisun Lee, senior counsel for the Democracy Program at the Brennan Center for Justice, maintains this shouldn't be a partisan issue. She notes that about 34 states already have some form of early voting.

"Most of them actually lean red," she points out. "So, this is not a case that should be partisan at all. These voting reforms are good for everybody."

Lee adds that reforming the state's voting system is essential to push back against anti-voter rhetoric that has been growing across the country.

Dadey points out that voting reform is only part of the solution to low voter turnout. He says the state also needs to do more to take money out of elections, and make it easier for candidates to get on the ballot.

"Those two things in combination would result in more competition," he stresses. "And more competition, I think, will result in bringing greater numbers of voters to the polls, because they believe that their vote counts even more so."

Last year, one in three candidates for the New York Legislature ran unopposed.


Andrea Sears, Public News Service - NY