Policy Changes Could Scuttle Some Arkansas Health Care Gains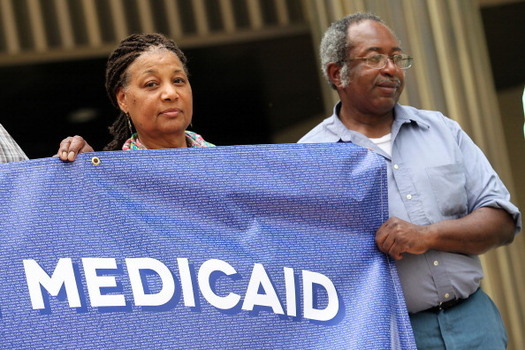 State and federal proposals to cut Medicaid have many low-income Arkansas families concerned about losing access to affordable health care. (GettyImages)
May 22, 2017
LITTLE ROCK, Ark. – Low-income families in Arkansas have seen significant improvements in health care under the state's expanded Medicaid program, but proposed changes could put those gains in jeopardy.

A new study says states, including Arkansas, that expanded Medicaid under the Affordable Care Act have had greater access to care and better health outcomes, compared to states such as Texas that chose not to expand the program.

Study co-author, Benjamin Sommers, associate professor of health policy at the Harvard T.H. Chan School of Public Health, says researchers found under Medicaid expansion, low-income adults came out way ahead.

"The coverage rates went way up in Arkansas and Kentucky," he points out. "They went up by a little bit in Texas, but not nearly as much. And that this coverage really led to dramatic changes in a variety of different ways as to the types of medical care that people were getting."

Sommers says in Arkansas, Medicaid has cut the uninsured rate by more than 20 percent, significantly increased the number of patients with a regular source of care and has more Arkansans saying their health is excellent.

But policy changes under consideration in Little Rock and Washington could erode those gains.

Marquita Little, health policy director with Arkansas Advocates for Children and Families, says state officials have proposed a plan to cut Medicaid enrollees, despite what she sees as pockets of poverty with an overwhelming need for expanded coverage.

"Chronic illnesses and poor health outcomes really disproportionately affect the rural counties, where access tends to be much more limited," she states. "So, that certainly would have a major impact, and really impede some progress that we are making in our state."

Little worries that proposed changes to the ACA could make health insurance too expensive for some Arkansans.

Sommers agrees, and maintains its proposed replacement, the American Health Care Plan, could stymie health care progress in the state.

"Any change by state or federal policymakers that would lead to loss of coverage would put a lot of these benefits at risk, and could have a real negative impact, especially for poor adults and those with chronic diseases," he stresses.

At the moment, Arkansas officials await federal approval to reduce the Medicaid rolls by about 20 percent, while Congress is formulating a replacement for the ACA.


Mark Richardson, Public News Service - AR