SB 1070 Tactics are Back, This Time in Texas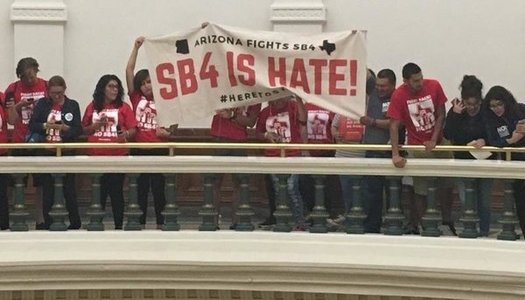 Protestors from Arizona joined a large group that disrupted the last day of the legislative session in Austin, Texas, on Monday, to oppose a bill similar to SB 1070. (Promise Arizona)
May 30, 2017
PHOENIX – The specter of SB 1070 is back - this time in Texas - and about a thousand people, including dozens from Arizona, rallied at the Texas Legislature in Austin to protest the new law. Senate Bill 4, signed into law by Texas Gov. Greg Abbott a few weeks ago, declares sanctuary cities illegal, allows local police to ask anyone they encounter for their immigration papers, and requires law enforcement to turn over undocumented people they have in custody to ICE.

Dalia Luque, a 21-year-old student volunteer coordinator with the group, Promise Arizona, said she made the trip to warn Texans of the damage SB 1070 inflicted seven years ago in the Grand Canyon State.

"It separated a lot of families, legalized racial profiling, even for folks who aren't undocumented," she says. "It just kind of creates a hostile environment where people don't feel comfortable even leaving their houses because of police enforcement."

Several other Arizona groups, including Lucha and Mi Familia Vota, sent vanloads of protestors to Austin as well.

Large sections of SB 1070 were struck down in the courts - but supporters of the Texas law are convinced it will withstand legal challenges, especially now that President Donald Trump has filled the U.S. Supreme Court vacancy.

Petra Falcon, executive director of Promise Arizona, says Arizona lost a half-billion dollars in economic activity after SB 1070 passed - the result of a national boycott organized by immigrants' rights groups. Plus, she says the climate of fear caused an exodus of families from the state.

"A lot of apartments went empty," she says. "Small businesses dried up. And schools saw a lot of young people just exiting. And families left the state - 200,000 or more people left the state, and the economy hurt."

During the rally, one Texas lawmaker reportedly asked ICE to come detain the protesters and several lawmakers scuffled. The law goes into effect on September 1.
Suzanne Potter, Public News Service - AZ