Analysis: GOP Health Bill Swaps Coverage for Tax Cuts to Wealthy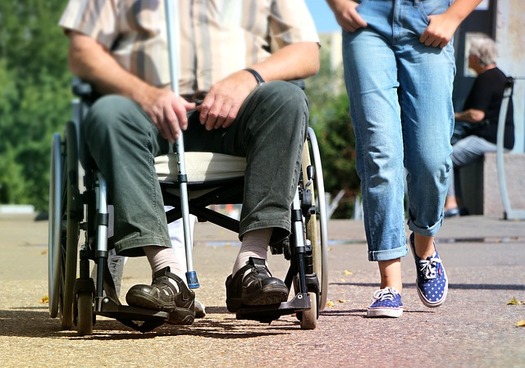 The GOP health-care bill's proposed cuts to Medicaid largely would impact the elderly, people with disabilities, pregnant women and children, according to a new analysis. (klimkin/Flickr)
June 21, 2017
SEATTLE - Washington state's millionaires could see an average tax cut of close to $40,000 a year if the American Health Care Act becomes law, according to a new analysis. Those tax cuts would be paid for in part by removing more than 340,000 Washingtonians from health-insurance rolls.

Alan Essig, executive director of the Institute on Taxation and Economic Policy, said Congressional Budget Office figures show the health bill that cleared the U.S. House is less about health policy than tax breaks for the top 3 percent of U.S. earners.

"The end result is 23 million people losing health-care coverage," he said. "The reason for that is to pay for $660 billion worth of tax cuts that overwhelmingly go to the wealthiest Americans."

Under the Affordable Care Act, low- and moderate-income Americans have been able to get coverage due to a tax on individuals making more than $200,000 a year, or $250,000 for couples filing jointly.

Supporters of the AHCA have said cuts to Medicaid and reversing the program's expansion would reduce the federal deficit and lower health-care costs.

Essig said the majority of Medicaid recipients that could be impacted by cuts would be the elderly, people with disabilities, pregnant women and children. Insurance premiums for an average 64-year-old with an income of $27,000 would rise from $1,700 to more than $16,000 a year, he said, warning that bankruptcies due to medical bills, which have decreased under Obamacare, could be back on the rise.

"Real people will end up losing their health-care coverage, and that will impact people's health, people's lives and people's bank books," he said. "We're going to be going back to where we were, which I don't think is where anyone wants to go."

The U.S. Senate has not yet made its version of the health bill public, and has promised to bring it to a vote before the July recess.

The analysis is online at americanprogressaction.org.
Eric Tegethoff, Public News Service - WA