Fargo Clinic, Law Enforcement Featured in New Documentary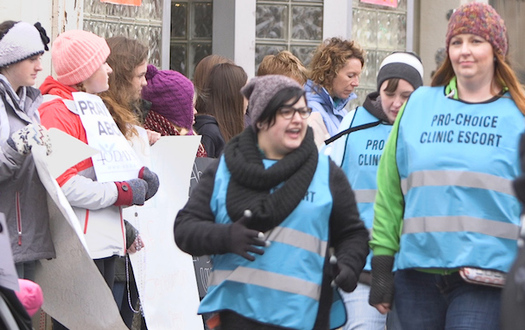 A new documentary compares the role law enforcement plays at clinics that offer abortion services in Fargo and Charlotte, N.C. (Marc Faletti/Rewire Multimedia)
July 20, 2017
FARGO, N.D. – Protests outside a clinic in Fargo that offers abortion services are now the subject of a documentary.

The film, called "Care in Chaos," compares the experiences of women at the Fargo clinic, the only one in North Dakota to offer abortion services, and a clinic in Charlotte, N.C.

Employees and patients alike are subject to loud and large protests as they enter the building in Charlotte while police look on.

But in Fargo, law enforcement takes a more active role, working with the clinic to provide a safe environment for staff and patients.

Jessica Pieklo, legal analyst at Rewire, which is screening the film, points out that doesn't mean staff and patients aren't subject to protests.

"There are plenty of protesters outside the clinic," she states. "The film, 'Care in Chaos,' shows they form what the clinic protectors call a walk of shame for patients where they pray for them."

However, Pieklo says that doesn't compare with the Charlotte clinic, where protesters throng cars coming to the clinic and sometimes barricade the doors.

Pieklo says protests have become more frequent at clinics across the country since last year's election.

Lindsay Beyerstein, the film's director, says protesters are knowingly breaking the law in some cases.

"They're basically daring the attorney general to enforce the FACE Act, which is the law that makes it a federal crime to blockade an abortion clinic," she explains. "So, I think we're in for a lot of conflict and a lot of struggle in the months ahead."

The U.S. Department of Justice is in charge of enforcing the Freedom of Access to Clinic Entrances, or FACE Act, but that must be led by Attorney General Jeff Sessions.

Pieklo says people who support a woman's right to access abortion services aren't showing up at the local level, such as city council meetings, in the way opponents are.

"Maybe that's because people who support abortion rights and access don't think that they need to show up, because we assume that those are still largely protected," she reasons. "But the reality is that this is a fight for civil rights that exists on the most local of levels and we need to engage in it as such."

Opponents of abortion argue the rights of a mother should not outweigh those of an unborn fetus.