Mother Nature Wallops Northern Illinois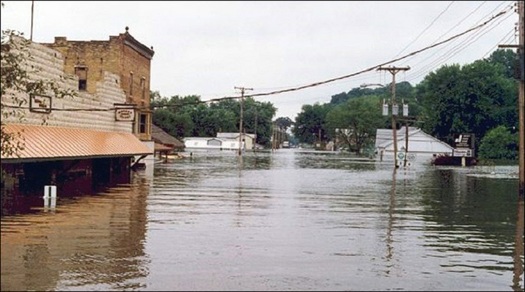 Thousands of homes and businesses have been inundated by floodwaters this summer. (noaa.gov)
July 24, 2017
ALGONQUIN, Ill. -- Mother Nature has been tough on northern Illinois this summer. Damaging floods have occurred as the Des Plaines and Fox rivers crest their banks after back-to-back violent storms.

The swollen Fox River in Alqonquin has been at flood stage for over two weeks. Vince Kilcullen, street supervisor for the village, said hundreds of volunteers have stepped up to help fill more than 40,000 sandbags to protect homes and businesses. He said some traveled long distances to help, and he's grateful for the support.

He noted that the area has been through similar disasters.

"You can never be ready, you know? Each time it floods, it seems to be a little bit different or maybe a little higher, a little lower," Kilcullen said. "It looks like possibly this time, we're going for a new record high. So you, know, obviously it's a little different than back in 2013, and different than 2008."

People who have lived near the rivers say some flooding is normal during wet years, but they feel the situation is getting worse. Some are questioning whether the earth's changing temperatures will eventually make the area uninhabitable.

Gov. Bruce Rauner has issued state disaster declarations in Cook, Kane, Lake and McHenry counties.

"The state is bringing a multi-agency center here - with our head of insurance, our head of public safety etc. - all in one center, so local residents can come in," Rauner said. "If they need advice, they need help, if their insurance company isn't responding, they don't have enough insurance, we can point them in a direction to get the help they need."

The State of Illinois says it will waive penalties and interest for residents who can't file their taxes on time because their homes or businesses have been flooded.
Veronica Carter, Public News Service - IL