Church Leader: "Stand Up" against Hate Groups in Minnesota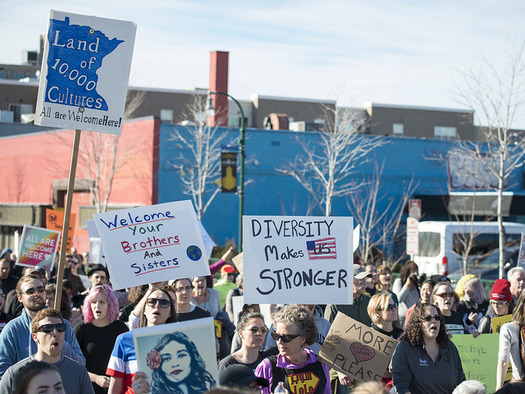 President Trump's proposed immigration ban brought Minneapolis residents out to support diversity in February. (Fibonacci Blue/Flickr)
August 16, 2017
MINNEAPOLIS - A national anti-racism group this week published a map that shows 10 hate groups based in Minnesota.

After weekend violence during a white-supremacist march in Charlottesville, Va., and another incident even closer to home, Minnesotans are wondering what, if anything, they can do. The Rev. Curtiss DeYoung, chief executive of the Minnesota Council of Churches, said what's important is to do something.

"This is timed a week after a mosque bombing in Bloomington, Minn., so we were already on alert around hate," he said. "We've made our public statements, but we feel there needs to be more than just that."

Both the Minnesota Council of Churches and the Southern Poverty Law Center, the group that published the map and tracks hate crimes across the country, recommend a few steps individuals can take to improve race relations including signing petitions, reporting every incident of hate and getting to know people who have backgrounds different from their own.

According to the state demographer, more than 17 percent of Minnesotans are people of color. DeYoung said the Council of Churches is among many groups celebrating the state's growing diversity.

"Even if you live in a small, all-white community, your children still may move out of that community and go to a university somewhere, or just live somewhere else," DeYoung said. "And so, preparing our children for this world is equally important."

Elsewhere in the country, cities are preparing for the possibility of another white-supremacist show of force this weekend. The New York Times has reported at least nine events are planned.

The hate-group map is online at splcenter.org/hate-map.