Could Volunteering Heal Communities During Trying Times?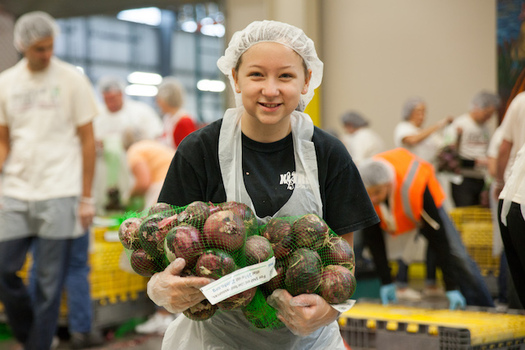 Late summer, which is harvest season, is the busiest time of year for food banks in Oregon, but they often have fewer volunteers to lend a helping hand. (Oregon Food Bank)
August 21, 2017
PORTLAND, Ore. – With the country going through a divisive and stressful time, could volunteering be one answer for healing local communities?

Recent events like the protests in Charlottesville, Va. have left many Americans looking for ways to make a more positive impact.

It may not be the action-packed scene of a protest, but volunteering is a tangible way for Oregonians to improve lives in their communities.

Jon Stubenvoll, director of advocacy for Oregon Food Bank, says this is the best time of year to lend a helping hand.

"People have family plans, family vacations and so, many organizations in fact do not have enough volunteers right now," he points out. "So, this is an excellent time for folks to come in and volunteer at Oregon Food Bank, or any number of other organizations."

Stubenvoll notes that Oregon is also in the middle of harvest season, a time when volunteering is lowest but people are needed most.

He says the need for food assistance is high in the state.

According to the U.S. Department of Agriculture, the rate of food insecurity in Oregon is about 16 percent.

Kaila Aubol is volunteer coordinator at Marion-Polk Food Share, a food bank in Salem.

"I feel like our volunteers enjoy volunteering, because it makes them feel like they're a part of something and they're helping out their community," she says. "Also, they're working side by side with a diverse amount of people."

Aubol says the Food Share is especially in need of people to sort donated food into family-sized portions, and drivers to deliver food through the Meals on Wheels program.

Stubenvoll says Oregonians have not recovered equally from the economic downturn a decade ago, and food banks across the state remain busy.

"All boats have not risen in this economic recovery, and so, folks often come in to the food bank, their local food pantry – really on a regular basis – simply to make ends meet, month over month," he stresses.