2 Illinois Lawmakers Part of Climate Solutions Caucus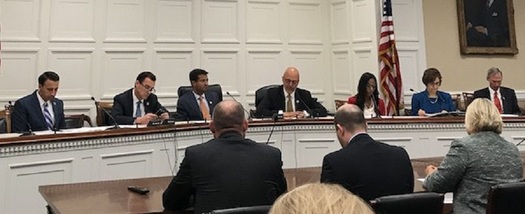 A bipartisan congressional panel is tasked with coming up with solutions to climate change. (Climate Ssolutions Lobby)
August 29, 2017
SPRINGFIELD, Ill. – A panel made up of members of Congress who are seeking solutions to climate change is growing by leaps and bounds.

The Climate Solutions Caucus started with just a handful of members a few years ago, but now has 50 members. It's bipartisan, and for every Democratic member added, there must also be a new Republican.

Steve Valk is with the Citizens' Climate Lobby, and says the goal is to have discussions about climate change with no acrimony. The Lobby has 370 chapters across the country, and volunteers work to recruit new congressional members by telling them it's a "safe place" to have conversations and to come up with possible solutions.

"We don't go in and tell people what we don't like about what they've said or done," he says. "We actually go in and tell them what we actually like about things they have done. And then from there, we actually have a conversation with them to find the common ground."

Valk says the goal is to have the panel come together and draft major legislation to preserve the environment for many generations. Illinois Republican Congressman Rodney Davis and Democrat Dan Lipinski both are members of the caucus.

Valk says lawmakers on both sides of the aisle are responding to the increasing number of Americans who want something done about climate change.

"Their constituents are concerned about this and they want their representatives to be proactive on this, and this is a way for them to demonstrate that they're willing to start the wheels in motion to get something done," he adds.

Valk thinks despite climate-change deniers in the Trump administration, many Republicans understand the science and know carbon pollution is a big problem, but aren't always admitting it in public.

"They want to do something but they also want to keep their seats in Congress, and so they're a little hesitant to step up until it's demonstrated to them that they have support in their districts," he explains.

This summer, with the help of 46 Republicans, the U.S. House defeated an amendment to a Defense Department authorization bill that would have blocked a study on the impact climate change is having on national security. Valk gives credit to the members of the Climate Solutions Caucus who voted in favor of the study.