Lawsuit Targets Trump Over Transgender Military Ban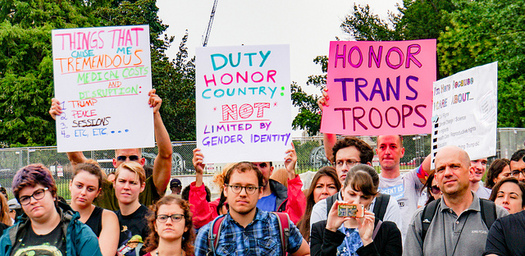 Estimates on the number of transgender people currently on active duty who could be affected by the ban range from about 1,300 to almost 9,000. (Ted Eytan/Flickr)
August 29, 2017
SEATTLE – Two lawsuits were filed against President Trump on Monday over his ban on transgender people in the military. The first lawsuit was filed in Seattle by the law groups Lambda Legal and OutServe-SLDN on behalf of the Human Rights Campaign, the Gender Justice League and three transgender plaintiffs, one of whom has served in the U.S. Army for 12 years.

The second lawsuit was filed by the ACLU on behalf of six service members. The suits are in response to a memo Trump signed on Friday banning transgender people from the military and leaving what to do with current transgender service members up to the Defense Department.

Danni Askini is the executive director of the Gender Justice League.

"For folks who want to join, it's a slap in the face," Askini says. "It feels very discriminatory. For folks who are currently serving, it's terrifying that they're going to be fired and they don't know when. And they're being punished for doing what the government already told them they could do."

Last year, the Obama administration allowed transgender people to openly serve in the military. Trump first announced the policy change in a tweet last month. He says the military "cannot be burdened with the tremendous costs and disruption" of transgender service members.

Askini says Trump's depiction is a complete misrepresentation of transgender people in the military. She says most transition-related health care is inexpensive, usually involving just hormone treatment, and West Coast states are proof that the cost isn't too high.

"All of our states have expanded health-insurance coverage to include transition-related health care, and that has not broken the bank," she says. "You know, no health insurance companies have gone belly up because of covering transition-related health care."

A RAND Corporation study from 2016 concluded there would be little to no impact on military readiness, noting that 18 countries allow transgender people to serve openly.

Estimates of the number of transgender people currently on active duty who could be affected by the ban range from about 1,300 to almost 9,000. Askini says the military is the largest employer of transgender people in the country.
Eric Tegethoff, Public News Service - WA