TVA Prepares for Rain from Harvey as Storm Moves North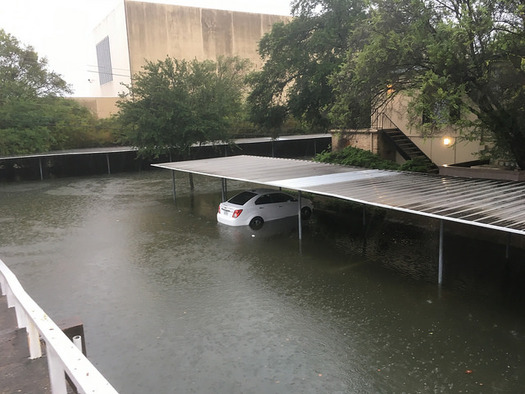 Hurricane Harvey flooded this parking garage in Houston, and rain from the storm's remnants is expected to hit Tennessee today. (R. Crap Mariner/Flickr)
August 31, 2017
KNOXVILLE, Tenn. – Parts of middle and western Tennessee are waking up to heavy rain Thursday, as the remnants of Tropical Storm Harvey move through the state.

While the wet weather isn't expected to cause significant damage, the Tennessee Valley Authority is on alert to decide when and if water level adjustments are necessary.

James Everett, manager of the River Forecast Center for the Tennessee Valley Authority, says dams located largely in the eastern half of the state are a major tool during large rain events.

"They provide the bulk of the flood storage protection, so as you get rainfall in that area, we have the ability under most conditions to essentially curtail flows, shut off flows from those dams, which reduces flow into the Tennessee River," he explains.

The River Forecast Center operates 24 hours a day, 365 days a year and works closely with the National Weather Service to predict rainfall.

Western and middle Tennessee are expected to see three to six inches of rain from the storm, with parts seeing as much as 10 inches.

Everett says thanks to technology and round-the-clock staff, the TVA is able to respond quickly to changing weather patterns.

"We know that there's a tropical storm coming," he states. "We know that there's going to be a high potential for rainfall. As we get more information about the weather and how much rainfall we're actually getting, we adjust our plans accordingly."

This year the TVA system has more water than normal due to additional rainfall this year, but the agency still will draw down lake levels after Labor Day weekend to store water for power generation during drier months.