Northeastern Cap-and-Trade System Could Fund Storm Prep for VA Coast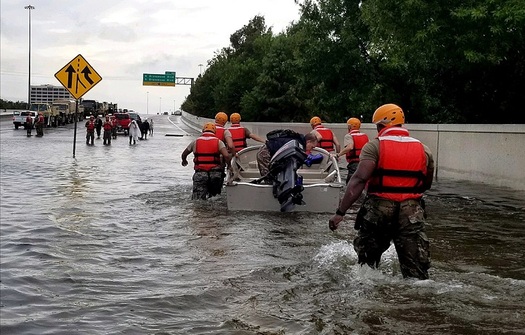 The massive damage Hurricane Harvey has caused in Texas can't help but prompt concern along the Virginia coast. (U.S. Army/Wikipedia)
September 5, 2017
RICHMOND, Va. – The bad news is that coastal Virginia is at risk from a storm like Harvey. The good news is, there's a ready source of funding for the storm mitigation the area badly needs. Estimates are that the Virginia Beach and Hampton Roads region is the second-most vulnerable urban center, after New Orleans.

Mike Tidwell, director of the Chesapeake Climate Action Network, says the area needs huge investments to protect itself as sea levels rise and storms get worse. And northeastern states have built a cap-and-trade network that's providing billions for exactly those kinds of projects. Tidwell says Virginia should join.

"We need levees," he says. "We need improved and expanded wetlands. We need beach restoration. We need elevated roads and houses. And the best way to do it is actually to join the Regional Greenhouse Gas Initiative."

Gov. Terry McAuliffe has proposed a cap-and-trade system for Virginia, but merging it with the system known as RGGI would take action by the General Assembly. Some members of the Republican-led General Assembly have criticized climate regulations as bad for the economy.

Tidwell describes Hampton Roads as a sitting duck for a storm like Harvey. He says the area already had one near-miss, when Superstorm Sandy went up the coast toward New Jersey, rather than turning left toward the Chesapeake Bay.

"Low-lying coastal Virginia - where sea levels have been rising, where flooding is increasingly happening, even on sunny days - the only thing protecting Norfolk and the rest of Hampton Roads from a major event like Hurricane Harvey, right now, is luck," he explains.

Nine states from Maine to Maryland are part of RGGI. The initiative auctions the right to emit CO2 and greenhouse gases. The money paid by power plants for those carbon credits creates an incentive for them to reduce pollution and, at the same time, provides funding for climate mitigation and other projects.