International Day of Peace Celebrates Humanity's 'Oneness'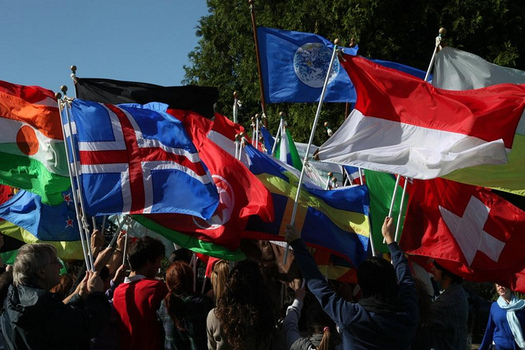 Campaign Nonviolence Week is celebrated around the world to promote peace. (Allanton House World Peace Prayer Society/Flickr)
September 21, 2017
SPOKANE, Wash. -- Today, cities across Washington state are celebrating the International Day of Peace. In Spokane, people are gathering at Gonzaga University to celebrate with the World Peace Flag Ceremony, where each of the world's 194 national flags are presented and blessed.

Joan Broeckling is co-director of One Peace Many Paths, one of the organizations sponsoring the event. She said the purpose of the event is to highlight what people around the world have in common with each other.

"It seems to us that so much of the conflict that's going on in the world is based on this idea that we're 'other than' - this 'I'm separate from you, you're not as good as me or you're different from me and I'm afraid of you,'" Broeckling said. "And so ceremonies like this, we're really intending to make a public statement that we're all one human family."

The Neema African Refugee Children's Choir will be singing at the ceremony as well.

Cities across the Evergreen State have been celebrating Campaign Nonviolence Week, which ends Sunday, September 24. The campaign, which is sponsoring the flag ceremony, is a grassroots movement where people gather at marches, rallies and vigils to celebrate peace, justice and sustainability. Events are planned in Bellingham, Seattle and Vancouver.

This Peace Day comes at a time of increased hostility toward refugee and immigrant communities across the country. Joan's husband Hank Broeckling, also co-director of One Peace Many Paths, said the point of the flag ceremony is to soothe the current political climate and celebrate humanity's oneness.

"If you're looking for the good, you'll find it. If you're looking for something other than the good, you're going to find that too, because none of us are perfect. We all have our flaws. We all have our weak points," he said. "But this is about focusing on what's good about people, their love and their life and what gifts they have to give and looking beyond the things that are less than that."

The International Day of Peace was established in 1981 by the UN General Assembly. In 2001, the Assembly unanimously voted to designate the day as a period of nonviolence and ceasefire.