Colorado Health Centers Face Double Funding Crisis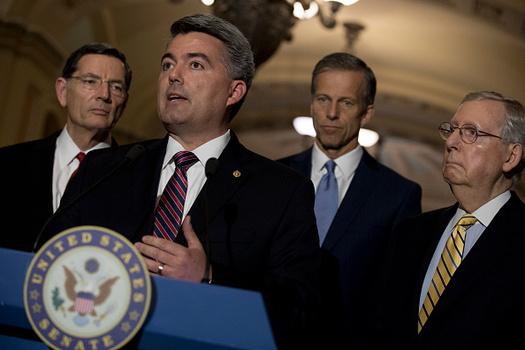 Colorado Sen. Cory Gardner has co-sponsored legislation that would restore funding for the Children's Health Insurance Program, which expired last Saturday. (Getty Images)
October 6, 2017
DENVER – The new budget passed by the U.S. House yesterday could add insult to injury for healthcare providers.

Critics say the measure's tax cuts - that primarily benefit the wealthy and large corporations - would require over $470 billion in cuts to Medicare and at least a trillion dollars in cuts to Medicaid, the lifeline of the nation's safety-net health facilities. This comes as Congress also has allowed funding for critical health programs to expire.

Polly Anderson, vice president of strategy and financing for the Colorado Community Health Network, says health centers in Colorado and across the country have "fallen off the cliff."

"We call it the primary-care funding cliff because 70 percent of health-center federal funding, the CHIP program, and the National Health Services Corps all expired on September 30 due to Congress' inability to act," she explains.

Anderson says Colorado's funding reserves for CHIP could last through January, but she notes some states will likely to be unable to cover pregnant women and children in a matter of weeks. A measure co-sponsored by both Colorado senators to fund CHIP cleared a committee on Wednesday. A bill to fund community health centers in the House is co-sponsored by all but one member of the Colorado delegation.

According to Anderson, the funding crisis isn't only about the viability of health centers and federal programs - it's about the health of the communities the programs serve.

"We're talking about children, and individuals who often don't make enough to purchase health insurance on their own," she says. "So, it's really Colorado's working families and working individuals who will be most dramatically impacted if these programs aren't reauthorized."

She notes about 75,000 children and at least 80 pregnant women in Colorado could be affected if Congress can't pass legislation that includes funding for CHIP. More than 90 percent of patients who use community health centers for preventive care, vision and dental services and more are living at or below 200 percent of the federal poverty level.